Fresh Raspberry Pi 3 on sale in SA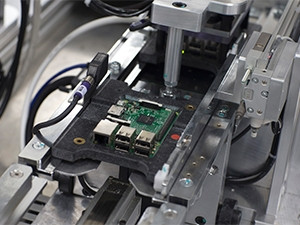 The Raspberry Pi 3, which launched yesterday worldwide, is available in SA through reseller RS Components for R642.
The latest generation low-cost computer board features higher performance, 64-bit support, and integrates Bluetooth and wireless LAN communications technologies.
The no-frills computing system is popular among hobbyists and educators, with a large growing open source software community, and a wide selection of add-on modules and sensors.
The third-generation system gives 50% more performance than Raspberry Pi 2 and nearly 10 times more than the original computer board released in 2012. This, while maintaining the same credit card size.
The Bluetooth and wireless integration means the Raspberry Pi 3 can be used for Internet of things (IOT) development projects.
"The Raspberry Pi 3 boots from a micro SD card and uses the NOOBS (New Out Of the Box Software) installation manager," said RS Components in a statement.
"The standard Raspbian operating system installed comes bundled with a range of productivity applications, and programming tools including Node-RED; this visual tool provides support for wiring together hardware devices, APIs and online services, making the board ideal for the rapid development and prototyping of IOT projects."
The company says the Raspberry Pi 3 Compute Module I/O Board will also be available soon.
The Raspberry Pi 3 is now available to order online from RS Components for R642 (excluding VAT).
Specifications:
SoC: Broadcom BCM2837
CPU: 4x ARM Cortex-A53, 1.2GHz
GPU: Broadcom VideoCore IV
RAM: 1GB LPDDR2 (900MHz)
Networking: 10/100 Ethernet, 2.4GHz 802.11n wireless
Bluetooth: Bluetooth 4.1 Classic, Bluetooth Low Energy
Storage: microSD
GPIO: 40-pin header, populated
Ports: HDMI, 3.5mm analogue audio-video jack, 4x USB 2.0, Ethernet, Camera Serial Interface, Display Serial Interface