Sony develops blockchain tech to track student data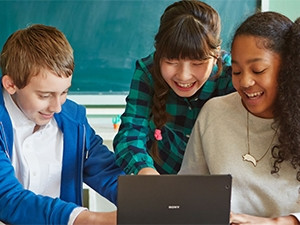 Sony and Sony Global Education have developed a system that will apply blockchain technology to the field of education.
Sony Global Education is a subsidiary of Sony that works to provide global educational services; it operates various educational initiatives including the Global Math Challenge, a worldwide contest that tests logical thinking skills.
The new platform, which uses blockchain technology running on the cloud, enables school administrators to consolidate and manage students' educational data from several schools, as it records and refers their learning history and digital academic transcripts with more certainty.
The educational organisation says it views blockchain as a core technology that has the potential to significantly shape the educational landscape of the future.
Masaaki Isozu, president of Sony Global Education, says blockchain technology can help bring transparency and help build trust to transactions, enabling users to create networks that are permissioned and immutable.
"Blockchain technology has the potential to impact systems in a wide variety of industries, and the educational sphere is no exception when educational data is securely stored on the blockchain and shared among permissioned users. We are pleased that we have worked together with IBM to build a new system which can help effect real change in the education sector," he explains.
The platform is built on IBM Blockchain, which is delivered via the IBM Cloud and powered by Hyperledger Fabric 1.0, a blockchain framework and one of the hyperledger projects hosted by the Linux Foundation, adds Sony.
It links together the systems of various educational institutions, tracking students' learning progress, as well as establishing transparency and accountability of educational achievements between students and schools.
"Blockchain offers a new approach to how the lifetime history of data related to a person, place or thing is shared and managed. In effect, data tracked on a blockchain becomes a single source of truth," says Yoshiki Minowa, VP partner of Cognitive Process Transformation, Global Business Services at IBM Japan. "We are delighted to have supported Sony Corporation and Sony Global Education to build up a new blockchain-based platform for innovations in education."
Sony Global Education says it is working with various educational institutions to launch the blockchain-based service worldwide in 2018. Currently, in educational institutions that operate ICT systems, operational management is carried out by student information systems comprised of students' school registrations, attendance, grades and educators' lesson planning management, notes Sony.
"By using the newly developed system, operators can safely integrate and connect previously gathered data as is from student information systems and learning systems, even if that data came from different providers. This creates a highly convenient service. Additionally, this also makes it possible for evaluating institutions to analyse this data and records using artificial intelligence and use it to provide suggested improvements to educational institutions' curriculums and management," concludes Sony.