MTN strike turns increasingly violent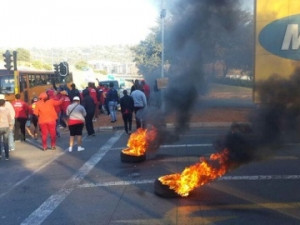 Disgruntled Communication Workers Union (CWU) members have stepped up the level of violence in the union's dispute with MTN.
CWU and MTN - SA's second largest mobile operator - have been at loggerheads for more than a month over salary increases and bonus payments. About a month ago, the dispute became a strike, which resulted in MTN obtaining a court interdict to prevent striking workers from coming within 100m of any of its premises.
Despite the court ruling, striking workers continue to wreak havoc outside the company's offices. Last week, there were reports of CWU members terrorising motorists outside MTN's Johannesburg head office.
This violence has now spread, with eyewitnesses saying this morning that MTN's Midrand office came under attack yesterday. According to sources, the Midrand store was attacked by a group of strikers that assaulted the staff and poured petrol on them.
ITWeb understands that, while the petrol was not ignited, some of MTN's staff have received death threats and had their houses burnt down. Speaking on condition of anonymity over fear for his life, an MTN employee told ITWeb that staff were terrified and ran screaming from the store.
These actions come despite the fact that the union and MTN are apparently close to signing a settlement agreement.
On Monday, MTN SA human resources chief Themba Nyathi said the strike - which is in its fifth week - was all but over, as most employees had returned to work. He added the CWU has indicated it was ready to enter into a settlement, having backed down from practically every one of its demands.
It is understood the union met with the company last weekend, indicating it is willing to accept MTN's 4% bonus payout in December and another payment of 8.33% in March 2016.
ITWeb also understands the union, which is not a recognised labour movement at MTN as it has failed to meet the minimum threshold, has backed down from its 10% salary increase demand, and is now willing to accept an additional 3% on top of the March salary increase.
MTN, which has experienced disruptions in its call centre operations, has called on the union to accept the appointment of an independent arbitrator to settle the matter. The CWU has apparently rebuffed this suggestion.
Neither MTN or the union were immediately available to comment.