Africa Anonymous targets the SABC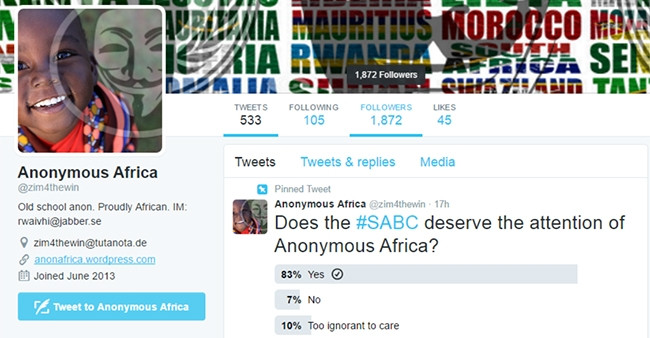 A hacking group that claims to be the African chapter of Anonymous has targeted the SABC. The group shut down the main SABC Web site this weekend, as well as the SABC-owned 5FM and SAFM Web sites.
When listeners tried to access the Web sites after lunchtime on Sunday, they were met with an Error 400 message.
Africa Anonymous, the group claiming responsibility for the attacks, tweeted: "Attacks against all SABC entities now underway. SA experiencing largest [DDOS] attack. All SABC stations are #TangoDown."
Craig Rosewarne, CEO of Wolfpack Information Risk, says distributed denial of service attacks, whereby multiple compromised systems target a single system, are: "One of the attack vectors of choice by hacktivists.
"They are effective because it shuts down the Web site's services and communication between customers and partners," says Rosewarne.
The Web sites were back up and running after 4pm, but the group warned on Twitter: "We will stop the attacks at SABC (for now) at 4pm. We are not done yet, lots of action coming. Things are going to get wild!"
Africa Anonymous said the hacks were in retaliation for SABC COO Hlaudi Motsoeneng's increasing censorship of the news.
The COO, a long-time advocate of 'sunshine journalism', recently said the SABC and its subsidiaries will not cover protests or the burning of private property, as TV cameras at protests "incite violence".
"Every time [Motsoeneng] censors the SABC more, we are going to come back, and keep hitting harder until [Motsoeneng] cannot get up again," Africa Anonymous tweeted after the attacks yesterday.
SABC spokesperson Kaizer Kganyago said on the various news stations later in the evening that the cyber attacks were disconcerting because the SABC is technically a 'national key point', and the entity would do everything to try and prevent it from happening again.
Rosewarne says attacks on government and state-owned entity Web sites are a cause for concern. He says in the case of this attack, the motive was to prove a point by hacktivists. But if hacktivists can close down a system, so can cyber criminals with fraudulent motives.
He says there are many companies in SA that do not have the right controls in place.
"A maximum of 5-10% have good security," says Rosewarne, who believes SA will see a lot more of these attacks.
Africa Anonymous posted a poll on Twitter, after the attack, asking its nearly 2 000 followers if the SABC deserves its attention. At the time of writing, 503 had voted: 84% said yes, 7% said no and 9% said 'too ignorant to care'.