Vodacom, Cisco re-commit to ICT training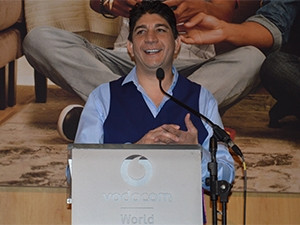 Vodacom, in partnership with Cisco's Networking Academy (NetAcad), has recommitted to training unemployed youth across SA in ICT.
For the financial year ended March, the Vodacom Foundation reported it has trained 367 youths in A+, N+ and 3G connectivity, CCNA and IT security. Additionally, 25% of the 367 youths have already secured permanent employment in various sectors.
The Vodacom Foundation was founded in 2013 with Cisco, Mict-Seta and the Independent Development Trust in an effort to tackle unemployment and help improve quality learning, particularly in the ICT sector. To date, the foundation has trained 972 South African youths.
Shameel Joosub, CEO of Vodacom Group, speaking on the back of the 2017 Cisco Instructor Conference held at Vodacom World this week, said: "The new evolution today is digitalisation.
"Our noble ambition is to be a leading digital company that contributes to transforming government's programmes such as health, education, municipal services and safety and security. We want to be at the cutting-edge of technology, and being part of Vodafone affords us this privilege.
"In order to nurture digital skills to ultimately help propel Africa into the fourth industrial revolution, we have to continue developing the youth and teachers. If we do not empower the teachers, how do we expect the teachers to share knowledge effectively? This is where the partnership with Cisco and government is valuable."
NetAcad (Cisco's Networking Academy), together with the Vodacom Foundation and the Department of Basic Education, also established Teacher Resource Centres across SA to provide basic ICT skills to educators, and to provide unemployed youth access to IT Essentials and Cisco Certified Networking Associate courses.
Mthobeli Tengimfene, executive head of the Vodacom Foundation, noted the foundation is the operator's show of commitment in doing what it can to stimulate skills development and job creation within the ICT sector.
"Through ICT skills training, we are now able to fulfil this commitment and play an active role in the creation of job opportunities for young people."