BYOD drives in-flight WiFi adoption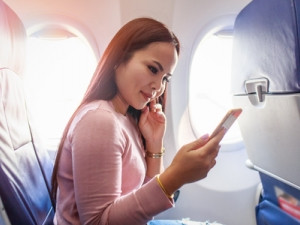 In-flight WiFi will be offered on over half of global commercial aircraft by 2022, driven by the impact of the bring-your-own-device (BYOD) trend.
This is according to the In-Flight Entertainment & Wi-Fi Connectivity: Technologies, Business Models and Key Players 2017-2022 report from Juniper Research. The research predicts commercial aircraft adopting in-flight WiFi services will reach 14 419 globally by 2022, up from an estimated 5 243 in 2017.
Juniper says this increase will primarily be due to the impact of the BYOD trend, despite increased security concerns from several governments, primarily the US, which has given rise to the so-called 'laptop ban'.

"In-flight wireless streaming is increasingly being offered as an in-flight entertainment option, based on a lower installation cost and weight savings versus seatback systems. With many vendors offering combined wireless streaming and WiFi connectivity services, wireless streaming will replace seatback in-flight entertainment on most short-haul flights, with seatback in-flight entertainment being increasingly reserved for longer flights with premium carriers," reveals the report.
With BYOD, consumer take-up is encouraged by wireless services, and monthly in-flight entertainment revenues are forecast to rise by 30% on average per aircraft over the forecast period, notes the research.
The Routehappy 2017 WiFi report found airline passengers now have a greater chance of stepping on board a WiFi-equipped flight than they did last year, with 39% of available seat miles worldwide having at least a chance of WiFi, up from 36%.
"This indicates an increase of more than one billion available seat miles per day. We expect a greater increase in 2017 - several major airlines decided on WiFi systems in 2016 with plans to roll them out in 2017, while others have already begun a rollout. Comparing 2016 to 2017 shows there has been a dramatic shift away from basic WiFi systems to faster systems, signalling that airlines are listening to customer feedback to improve WiFi connectivity," notes the report.
Market research firm Strategyr found the global number of commercial flights with WiFi services on board is expected to exceed 10 000 by 2020, driven by the emerging era of on-demand connectivity, advancements in broadband Internet Protocol technologies and rapid adoption of WiFi services by carriers for service differentiation. Other factors driving growth include proliferation of smart Web-enabled mobile devices, demand for continuous high speed Internet access, and expansion of mobile workforce and BYOD engagement.
Earlier this month, Emirates expanded its in-flight WiFi service for all Emirates Skywards Platinum and Gold members.
"Emirates has made significant investments in our in-flight connectivity. In-flight WiFi usage, already popular from the start, has grown tremendously. Our new in-flight WiFi plans reflect Emirates' commitment to continue providing this as a free service for as many customers as possible, especially to our most frequent flyers," says Adel Al Redha, Emirates VP and COO.