Social media fuels #FeesMustFall movement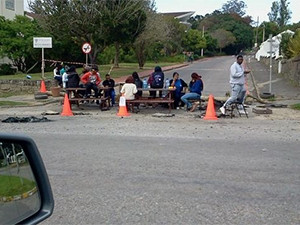 Students protesting across the country against the high price of tertiary education have been able to spread their message much faster through the use of social media.
The protests went from Johannesburg's Wits University last week, to Rhodes University, the University of Pretoria and the University of Cape Town (UCT) yesterday. Today, social media tells us the protests are continuing to spread to the Cape Peninsula University of Technology, Stellenbosch University and Fort Hare University.
"Social media is the fuel of this movement," says Anton Harber, Caxton professor of journalism at the University of Witwatersrand. "Its speed, openness and ubiquity are leaving traditional media far, far behind."
All protests have followed a similar pattern, whereby students barricade entrances to the institutions and shut down the universities until demands are heard.
At 7:42am on Monday morning, all Rhodes University students received an SMS stating: "It has been decided to suspend all academic activities planned and scheduled for today." This was after students mobilised over social media networks from midnight, meeting to place rocks and benches in the streets surrounding the university.
Subtle difference
The hashtag #FeesMustFall has been trending across South Africa over the past week, adapted from the #RhodesMustFall hashtag, used earlier this year by UCT students to remove a statue of Cecil John Rhodes.
As protests heat up and more universities begin to concede to some of the students' demands, there has been a subtle change in the most common hashtag used, from #FeesMustFall to #FeesWillFall.
"Social media is allowing us all to follow what is happening from minute to minute, hear the voices of all those involved and letting everyone have their say. It is enabling students and student leaders to talk to each other in real-time and to speak to their peers across the country. The debate and discussion on social media is rich, multi-layered and multi-voiced," says Harber.
"Nobody can control the narrative on social media, but it does allow everyone to have their say and speak directly to the world with fewer filters.
"Previously, our view of this kind of event would be filtered through reporters and editors. Now we are hearing from all the parties directly, and it is rich and fascinating and exciting."
Support flows in
On Twitter, student council representatives have been sending support from one university to another, and others have been urging more people to get involved. Students have taken to the social network to share anecdotes and live tweet protests and monitor police activity.
Twitter user ?@anthoknees tweeted from America: "As Black American students in the US what we *can* do is social media support for #FeesMustFall #NationalShutDown."
Social media was used to document police involvement in the strikes and there were reports that students were arrested and rubber bullets fired in some instances.
Miss Masses tweeted: "So the revolution will only be televised when it's convenient?? Not at 2am when students are being arrested and tear gassed? #feeswillfall."
"One would expect traditional media to do more to explain, analyse and contextualise ? to do what social media does not do so well. But I have seen very little first-hand reporting that does this effectively. Social media is driving the agenda and setting the conversation, and traditional media is struggling to keep apace ? and largely failing," says Harber.
ICT veteran, Adrian Schofield - who works at Wits University, where the protests started last week - says: "There is no doubt social media has spread the word much faster than it would have previously. Student bodies are able to watch what others are doing and act accordingly if others' actions were effective.
"However, there is a sense that there is a great deal more organisation going on in the background - so it is difficult to say if it is just social media."