SA blockchain start-up joins Lykke initiative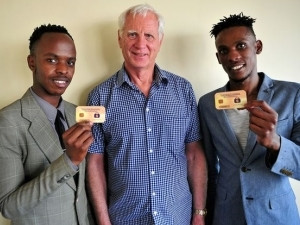 Local blockchain start-up Ekasi Bucks is the first South African organisation to join the Lykke Streams programme, a global initiative founded by Swiss blockchain company Lykke.
The programme assists teams to set up a Lykke entity in different countries and run it. It will enable Ekasi Bucks to provide financial services to township enterprises through leveraging the power of blockchain.
Ekasi Bucks was launched in 2016 by 26-year-old Mabopane, Tshwane-based co-founders, Lucky Kgwadi and Edgar Lebelo. Based on public ledger platform Bitcoin, the payment start-up is a service provider for township-based merchants, offering cryptocurrency services which include point of sale, inventory management, remote stocking and customer loyalty programmes.
The start-up offers mobile wallet linked services through its Web-based and mobile app, allowing consumers to buy groceries, meat, prepaid services and entertainment from participating merchants in the townships.
Kgwadi explains: "Our payment system aims to service SA's township-based enterprises which operate in an economy worth R50 billion, helping them take total control of their finances and redistribute wealth back into their hands. The Ekasi Bucks cryptocurrency is decentralised from the South African reserve monetary system, meaning the currency value will not be affected by political instability."
The wallet services can also be linked to the Ekasi Bucks prepaid MasterCard, offering low-cost transactions, enabling township person-to-person and business-to-business instant money transfers at a fraction of the current cost, Kgwadi points out.
Global digital currency platform Lykke will bring its blockchain expertise and infrastructure on board, ensuring Ekasi Bucks' systems transform the way township-based consumers transact across the country, he continues.
"We offer a loyalty programme where customers make a purchase and earn crypto currency in the form of Ekasi Bucks when they purchase products from member merchants. Other services offered include an inventory management system which helps businesses manage their stocks, providing insight into the products which consumers are more likely to buy and those not in demand," explains Lebelo.
A team of developers from Lykke, he adds, will assist the founders with further development of their platform by educating them about digital currency and provide financial support.
"We have a database of a potential client base of over 4 000 merchants and around 27 000 users around Gauteng townships, who have the potential to adopt the payment system. We also aim to bring mobile banking over the blockchain platform to over 300 000 unbanked clients on our database," notes Kgwadi.
Ekasi Bucks is raising capital through an initial coin offering (ICO), issuing 100 000 000 Ekasi Bucks coins of EKB200 000 000, at less than R7 per Ekasi Bucks coin. The ICO offering began on 10 July and will run until 31 July.