Apple store hits landmark high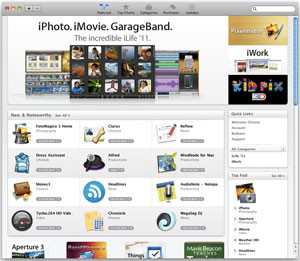 Apple's App Store has now grown to the point where income from the virtual outlet is worth more than what the entire company turned over 10 years ago.
The app store launched in the middle of 2008, and hit 500 million downloads just six months later.
Apple has since announced the first week of January this year set a new record for billings from the App Store, with customers around the world spending nearly $500 million on apps and in-app purchases.
Apple's store is much more valuable than that of its nearest smartphone rival - Google - and will continue to be so for the foreseeable future, says World Wide Worx MD Arthur Goldstuck. This, he explains, is because Apple devices are more high-end, which implies the handset owners have disposable income to spend in the store.
Conversely, says Goldstuck, those who own Android devices, which tend to be more low-end when compared with Apple, do not have spare cash to buy apps. However, he notes, there will be a time when Google's sheer size drives its store forward.
Google reportedly leads Apple in downloads, with 60% more downloads from Play than from the App Store, but lags its rival when it comes to getting paid for the apps. Apple, the world's second-largest smartphone maker, notes New Year's Day 2015 marked the single biggest day ever in App Store sales history.
"These milestones follow a record-breaking 2014, in which billings rose 50% and apps generated over $10 billion in revenue for developers," says Apple. Since its launch, developers have earned a total of $25 billion from the sales of apps and games.
Goldstuck adds Apple invented the app store concept in the same way the company has been responsible for the device revolution in tablets and smartphones.
Vestact analyst Sasha Naryshkine adds the app store sees around 85 billion downloads a year, noting it will continue to grow as devices and the ecosystem expands. "It's actually just about growing the ecosystem. When we want to do something, there is an app for it."
The App Store offers more than 1.4 million apps for iPhone, iPad and iPod touch users in 155 countries around the world.