Jonga wins Santam Safety Ideas challenge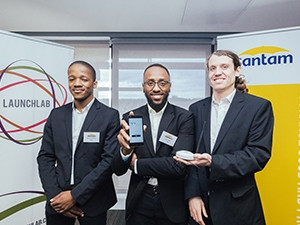 The developers of Jonga, a cost-effective security system for low income families, were announced winners of the inaugural Santam Safety Ideas Campaign.
The Santam Safety Ideas Campaign, run in partnership with the LaunchLab, encourages South Africans from all walks of life to put forward innovative ideas and concepts that have the potential to help keep South African communities safer.
The campaign, launched in July last year, helps ordinary South Africans to turn their safety ideas into a reality by creating a platform that aims to improve people's lives and protect their livelihood. The challenge generated more than 150 entries from across SA.
The winners, social entrepreneurs and students from Stellenbosch University, Ntando Shezi and Ntsako Mgiba, say they created Jonga with the aim of making security accessible to everyone and not just to a few who can afford it.
"The device consists of two parts - a hardware section that is mounted on the wall and a software part that is either a smartphone app or SMS notification, depending on the type of cellphone the user has. The hardware uses sensors to detect a break-in and sends a notification to the owner's phone, asking if they're expecting anyone. If not, it sends notifications to neighbours, alerting them to what's happening in the house," they explain.
Mgiba hopes Jonga will empower underprivileged communities to get connected and protected. "This project is very close to our hearts because we also have families in townships. We are thrilled and grateful to Santam and LaunchLab for believing in our product and making it possible for us to start developing it so that we can launch our pilot programme in various townships. We believe big corporates like Santam should continue to invest in innovative initiatives so that they can make a tangible difference in our communities," he adds.
The duo walked away with an incubation prize valued at R150 000. The opportunity to participate in an incubation process will see their concept being developed into working prototypes - and possibly, a viable business venture.
Mokaedi Dilotsotlhe, Santam's executive head of brand and marketing, says: "The Santam Safety Campaign highlights our commitment towards helping to keep South Africans safe, while focusing on our core business of providing insurance good and proper. As an insurance provider, we know we must pre-empt and mitigate potential risks. What better way to do this than to nurture and invest in solution-driven innovators. By investing in risk mitigation strategies like these, we are helping to secure a sustainable future and create safer communities."
The three finalists of the Santam Safety Ideas Campaign were:
* Mbulelo Mpofana of TrafficEye, an insurer-independent app-based insurance telematics solution that provides users with greater control over their telematics data.
* Jonathan Shutte and Dieter Zermatten of Bomvu Stake Initiative, whose idea captures statistical data to highlight regions with high accident fatalities.
* Tharina de Lange of Guardian Angel Safe Zone, who has evolved the concept of wearable proximity-based tags to track the GPS location of loved ones.