Are you making money from your data?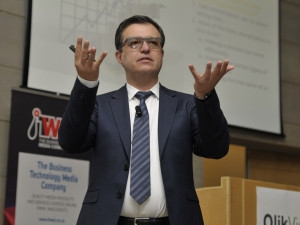 Data is money, and more and more businesses are finding ways to make money with their data. Today there is more value locked in data than in the gold reserves in California, and winners and losers will be separated by those who can turn that data into money.
Dr Rado Kotorov, global vice president and chief innovation officer for Information Builders, said for him, the trigger for the interest in monetising data came from the realisation that between 90 and 95% of businesses were not getting the expected value or ROI from their business intelligence (BI) investments.
Speaking at the ITWeb Business Intelligence Summit 2016 at The Forum in Bryanston this morning, Kotorov said businesses of all types and sizes all over the world are facing the reality that while they are drowning in data from a multitude of sources, they don't have the know-how or infrastructure to monetise it.
There are several trends driving this deluge of data, he said, including the cloud, mobility, the Internet of things (IoT) and social media. "These trends are driving unprecedented opportunities for businesses to get a real return on their data, and formulate strategies to monetise it."
Data monetisation can be about selling data, but most of the time it is less direct, explains Kotorov. "Data can be monetised in three major ways: firstly by using the information itself as a revenue-generating product, or through indirect means such as incentivising customer behaviours or eliminating waste or other excess in business processes."
BI for everyone
According to Gartner, he said, BI has around a 25% adoption rate in the enterprise, and is still for the most part the domain of professional analysts who use complex tools and spend most of their time analysing data, and managers who look at the end reports and dashboards.
"The balance of operational employees, as well as customers and partners, still do not have direct access to information to help them make better decisions. We need to shift the focus to supporting employees, partners, suppliers, distributors, customer, citizens, patients and students."
In terms of how to think differently and how to innovate, he says to think about the power of scaling to the masses. "Learn from other industries and apply what you learn to the data you have. Ask how you are scaling this data to give it to the many consumers and users who could benefit."
This is where self-service comes in, it's the most disruptive concept, he says. "It has changed everything, just think about the shopping cart. There is a long history of making money with self-service, such as innovating and differentiating with self-service 'info apps'."
These 'info apps' are designed for incorporating insights into organisations' business information systems, and can be designed for specific departmental functions or roles, and extended to partners and customers outside the company.
He cites the example of a restaurant that put iPads in place for customers to order food. "These weren't just built for ordering but for an entertainment system. The menu was full of interesting information, perfect for customers at an airport restaurant for example. The adoption was driven by the entertainment, and the business ended up saving on labour costs."
Operational processes
To unlock the full value of BI, and make money from data, businesses need to take insights and put them into operational processes. "Money is made in operations," he adds.
To do this, he says there are several big changes companies need to make. "Firstly, they need to change how they manage the data value chain, starting with data capture of all data, integrating it, enriching it, enhancing it, managing it, governing it and suchlike.
"Then they need to take it and apply it to data assets, and analyse it for insights. Once done, they need to put it into the hands of the operational decision-makers, and then businesses need to take that data and package it as a product, and give it to stakeholders out of the enterprise.
"This is how monetising and productising of data happens. If organisations adopt the mindset that decision-making takes place across the enterprise, and that with the right information in hand, decisions can carry value for the organisation as a whole, they can be on their way toward achieving a successful data monetisation strategy."