Google aims to avoid unfortunate autocompletes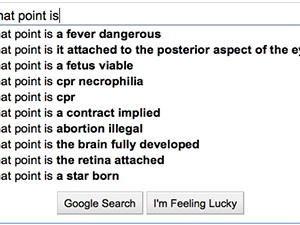 Google users will now be able to flag a search result if an autocomplete result or a snippet of an article is inappropriate or inaccurate.
This follows accusations that Google allowed fake news articles to appear higher in search results, especially during last year's US election.
Ben Gomes, Google VP engineering, explained in a blog post that Google will use real people as 'evaluators', whose feedback will be used to improve the search algorithms.
Users will now have the option to report inappropriate predictions in the Google search bar, indicating if they are hateful, sexually explicit, or violent.
This feature will also be available for Google snippets, the information highlighted at the top of a Google search result.
Gomes says autocomplete and snippets results can sometimes be unexpected, inaccurate or offensive because they are: "Generated algorithmically and a reflection of what people are searching for and what's available on the Web."
He says when Google launched in the early 2000s, the company had to deal with low-quality 'content farms' which were trying to game the system to appear higher up in search results.
There are now new ways individuals or systems are trying to be in the first page of results, says Gomes.
"The most high profile of these issues is the phenomenon of 'fake news', where content on the Web has contributed to the spread of blatantly misleading, low quality, offensive or downright false information.
"While this problem is different from issues in the past, our goal remains the same ? to provide people with access to relevant information from the most reliable sources available. And while we may not always get it right, we're making good progress in tackling the problem."
Gomes says the company has also adjusted its signals (what determines which results are shown for a query, such as freshness of the content), "to help surface more authoritative pages and demote low-quality content, so that issues similar to the Holocaust denial results that we saw back in December are less likely to appear".
It will offer greater product transparency going forward. Information about how search works and how the company ranks articles will always be made public, Google says. Currently, information can be found in its Help Centre and the How Search Works site.
Facebook and Wikipedia also this week divulged how they plan to combat the scourge of fake news.
Facebook will offer fact-checked related stories alongside stories in its newsfeeds, and Wikipedia plans Wikitribune, a crowd-funded news site offering stories by journalists and volunteers working together.