Opera brings messaging to browser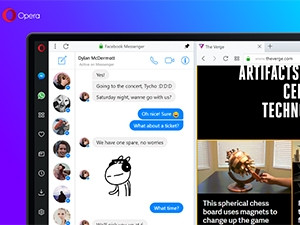 Messaging apps Facebook Messenger, WhatsApp and Telegram will now be available to use seamlessly in the Opera desktop Web browser.
The new features come as part of the company's project Reborn, which aims to completely redesign its browser.
The company says it wants to streamline users' Internet experience.
"Browsing and chatting simultaneously is cumbersome and inefficient now, as you need to switch between tabs when responding to a message. We believe this needs to change."
The new Opera Reborn will allow messaging apps to reside within the browser, without the need to install any extensions or apps.
An icon for the various apps will be located in the browser tab; clicking them will take users to a sign-in page.
"After you log in to the site, there are two ways of using this feature: you can open it in overlay or pin it side-by-side with your current tab. Pinning a communicator allows you to combine online chatting with a full browsing experience," the company said in a blog post.
Users are able to customise which apps go where under the 'customise start page' option.
The integration of messaging apps is one of the many features the Web browser has tested in the last few months. These include a free VPN and native ad blocking, giving users access to blocked Web sites, and shield browsing when on public WiFi.
The company is also focusing on expanding its reach, particularly in Africa. Yesterday, Opera Software announced it will invest $100 million (R1.3 billion) over the next two years to facilitate the growth of the African digital economy.
In a statement, the company says it will use the investment to speed up Internet adoption in Africa and strengthen the Internet ecosystem with local partners.