Election tech much the same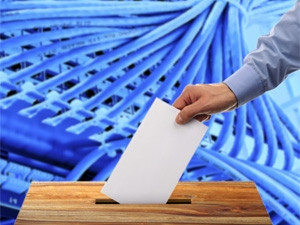 Despite the rapid advancement in technology SA has seen over the past five years, the ICT infrastructure that underpins this year's elections is only marginally different to that of 2009.
This is according to Independent Electoral Commission (IEC) CIO Libisi Maphanga, who notes infrastructure has increased on a "small scale" since the last general elections. "We have over 3 000 desktop computers deployed and more than 100 servers. They will still be used by the IEC after the elections."
According to a post-2009 IEC report, over 2 000 desktop computers were deployed to over 300 sites across the country, while 90 new servers were commissioned for greater throughput for results capturing and reporting. In addition, new multi-protocol label switching virtual private networks were installed and the bandwidth increased.
Since then - apart from an increase in network capacity and the addition of WiFi, election tech has remained largely unchanged.
Crucial ICT
However, the entire election process is still reliant on ICT to ensure fast results that are free from tampering.
Again this year, Telkom is responsible for ensuring every vote is counted, a task that requires an extensive infrastructure backbone and a range of interactive technology, including modem, fibre-optic, satellite and metro Ethernet technology.
The IEC and Telkom's relationship dates back to the historic elections of 1994, and has continued throughout all the national, provincial and municipal elections that have followed.
Telkom's job prior, during and post the 2014 general elections is to supply telecoms infrastructure to all of the IEC-controlled election-related points of presence throughout SA.
The telco will in effect enable the delivery of ballot results from 22 264 polling stations around the country, to the national results centre (NRC) at the Tshwane Show Grounds. This will be done via 328 municipal election offices (MEO), nine provincial results centres (PRC) and the IEC's headquarters in Centurion.
Infrastructure upgrade
Telkom says it has enabled data connectivity to all IEC offices - including 328 MEOs, nine PRCs, nine provincial election offices and the NRC - through modem technology virtual private network supreme, which is proactively managed from its national network operation centre in Centurion.
"The remote sites with no optic fibre infrastructure access have been connected with VSAT technology, which was upgraded to match the bandwidth requirements of the IEC with VSAT backhaul upgraded using metro Ethernet technology."
The company notes it can safely say it has deployed "the best and most scalable technology to ensure smooth and flexible data connectivity" to enable efficient results capturing. Soft switch is available when there is more demand on bandwidth, says Telkom.
Disaster recovery
Telkom says it has lined up technical support teams across the country to respond to any technological incidents that may arise.
Cybernest, Telkom's data centre operation, is at the heart of the IEC's disaster recovery measure. Working as a mirror image of the IEC's head office, all data activities at the IEC's headquarters are replicated at Telkom's data centre in real-time.
In the event of disaster at the IEC's headquarters, says Telkom, the disaster recovery site will take over all activities and the elections will proceed uninterrupted. Capacity has been increased this year, to accommodate the new apps traversing the network.
ICT veteran Adrian Schofield says technology is crucial in an election, as this is what enables the IEC to get the results out quickly. He notes that, although the commission has a week in which to release the final counts, it usually does so within 48 hours.
He adds that should the process be protracted, allegations of vote tampering may be raised. He explains the votes need to be carried efficiently over a secure network before being made available.