Tracking cheetahs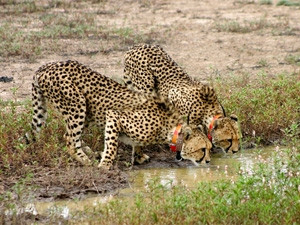 At top speed, a cheetah can travel at over 100km per hour.
This is about two-and-a-half times faster than the world's fastest man, Usain Bolt, is estimated to travel during a typical 100m dash at an international competition.
Bushman legend has it that the cheetah was given its pace after showing compassion during a race. The story goes that the tsessebe and the cheetah undertook a contest to see which was the fastest animal on earth. But the tsessebe tripped over a stone, breaking its leg. Rather than running past the injured animal and winning the race, the cheetah stopped to help his opponent, and because of his kindness, was awarded incredible speed.
While this may be more folklore than fact, a group of researchers is trying to gain a scientific understanding of the swift animal's incredible speed, using smart technologies.
Once an athlete running competitively at international standard, Professor Alan Wilson, of the University of London's Royal Veterinary College (RVC), developed a keen interest in the mechanics of athleticism and the limits to athletic performance. His latest study: "Locomotion dynamics of hunting in wild cheetahs", was recently published in the journal Nature. The paper serves as an attempt to accurately document a cheetah's top speed and to understand the animal's other remarkable athletic capabilities.
Understanding an endangered species
According to Wilson, experiments to measure a cheetah's speed have only been conducted on captive animals chasing a lure in a straight line, and few of these trials have elicited speeds faster than racing greyhounds. "For wild cheetahs, estimates of speed and track have been made from direct observation or film only, and are limited to open habitat and daylight hours," Wilson's research reads, stating that conventional wildlife collars, which have been in use since the 60s, would not suffice for this kind of project.
Something a little smarter was needed to get a better idea of how cheetahs hunt when nobody is looking. That something came in the form of innovative, species-specific, tracking collars.
"I think it is essential for man to understand how animals function in their environment, because these big predators are becoming more and more fragmented and are under different types of pressure. If you know where an animal is most successful, it allows conservationists to better understand in what ecosystems these species will be successful," Wilson says.
Cheetahs are viewed as problem animals and are actively persecuted by farmers in an effort to curb perceived high predation rates, says Deon Cilliers, of the Cheetah Outreach Trust.
"When it comes to wildlife, technology allows us to learn things about animals that we would not be able to pick up through sheer observation. The collars enabled us to gather large amounts of data and to present that data in a way that makes people feel more engaged with the animals. If we really want to monitor and understand animals, we have to utilise the technology currently available to us."
According to Deon Cilliers of the Cheetah Outreach Trust, a lack of understanding about cheetahs is one of the main reasons that species numbers are dwindling.
"Cheetahs are viewed as problem animals and are actively persecuted by farmers in an effort to curb perceived high predation rates on livestock and game animals," says Cilliers. He, like Wilson, believes conservation technology should be used to improve people's understanding of the cats, altering society's attitudes towards cheetahs.
Collecting data on the run
Wilson and his colleagues faced a complex challenge when designing these specialised collars. The technology had to be light enough to not affect the cheetah's behaviour or locomotion, while also hardy enough to withstand life in the African bush. "The type of equipment needed to collect data from free-ranging animals, without impinging on the animal's performance or lifestyle, is not just available off the shelf," he says.
Specialised equipment for the project was designed in-house by Wilson and a team of electronics engineers. A new class of accelerometers and gyroscopes, based on 'micro-electro-mechanical system' (MEMS) devices, were combined with high-performance GPS receivers, low-power computer chips and solar cell technology. The MEMS accelerometers and gyroscopes are capable of tracking the animal's movement at incredible speeds when required.
According to Wilson, for the first time in history, they were able to capture fine-grained data on wild animal movement and behaviour in great detail. While the RVC's wildlife collars incorporate advanced GPS receivers, they are capable of very low power operation, thanks to an energy-efficient central processing unit, which analyses the data from the accelerometer and indicates how the collar is working depending on the animal's behaviour. This means the entire circuitry of the collar is shut down when the animal is sleeping, but all the sensors and GPS receivers are running at top speed when the animal is hunting, says Wilson. Not only does this save power, but it also limits the amount of data being generated to a size that can be stored on the collar for extended periods of time.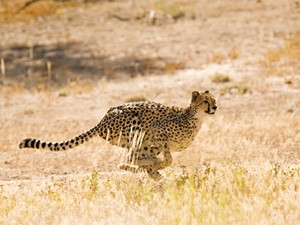 Initial development of the collars was conducted in the UK and SA, he says. Because many of the animals at the Ann van Dyk Cheetah Centre, in Hartbeespoort Dam, are comfortable around people and are trained to chase a lure, they were used in initial testing, allowing the team to take measurements, record high-speed video and test their equipment, adds Wilson.
Each collar was tailored to fit the animal comfortably and safely in order to collect data relevant to the particular study. The processed data from the collars delivered the position, speed, acceleration and track of the animal as often as 300 times per second.
Uninterrupted tracking
The five cheetahs that served as guinea pigs for the locomotion research were tranquilised while the collars were fitted. This allowed the research team to measure the animal's size, weight and limb length and to conduct general health checks.
And then Wilson and his team waited.
The research notes that it was important to have as little contact as possible with the animals once the collars were fitted. As such, the collars featured remote capabilities, allowing the researchers to program and update the technology without disturbing the cheetahs. About a quarter of the collar's power requirements were provided by high-efficiency solar cells, which extended the device's operating life.
In addition, a high-speed two-way radio transceiver allowed the recorded data to be downloaded without disturbing the animal. The data was transmitted by radio link every few weeks to a ground vehicle or light aircraft. This technology meant they were able to update the software and settings on the smart collars when required. The collars were also equipped with remote programming and data upload capabilities, says Wilson.
"The RVC collars generated all the data we are presenting in this research," he says, stressing how integral this technology was to the success of the study. "The data itself is as much about the collars as it is about the animals. We hope that this technology will encourage others to make use of new technologies as they allow researchers to capture more accurate measurements."
Agile predator
Eighteen months and 367 hunts later, Wilson and his team had a mountain of data to sift through. Making use of specialised computer programs, the team took about a year to transform this data into something useful, says Wilson. "This paper was the first of, I hope, a number of papers to come in the future."
The top speed recorded during the research period was 93km per hour, but during most hunts, the animals only travelled at half this speed.
"We found that the animal is a lot more versatile than we previously thought," says Wilson. "Cheetahs are not just open plain hunters that outrun their prey. Their strength lies in their incredible agility. This, coupled with their speed, makes them so dynamic. Our findings showed that these animals are hunting in denser scrub, dispelling previous ideas about their hunting patterns."
According to Wilson, this kind of research helps people to better understand the animal kingdom and what the natural world is capable of. "Cheetah populations are strained in certain areas, which is tragic because this animal is the ultimate athlete and pursuit predator. The hope is that our research will help people realise how valuable they are and that they are worth conserving.
Cheetahs are not just open plain hunters that outrun their prey. Their strength lies in their incredible agility, says Professor Alan Wilson, of the University of London's Royal Veterinary College.
"The multidisciplinary nature of the work and the ability to develop new instrumentation is enabling us to collect data, analyse data and ask questions in ways not previously possible. This has major practical and financial implications for a wide range of fields, including the conservation of wild animals, as well as livestock farming," notes Wilson.
"Technological advantage made this project easier. The technology we are using in these collars would not have been feasible just a few years ago. The possibilities are endless. It really is a great time to be doing this kind of work."