Anonymous declares cyber war on ISIS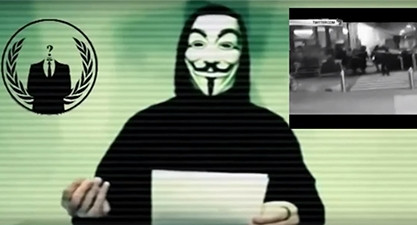 Hacktivist group Anonymous has declared cyber war on ISIS. This was communicated to the world via a video uploaded to YouTube this past weekend.
The video features a person talking in French, acting as a news anchor, in a stylised Guy Fawkes mask, saying: "Anonymous from all over the world will hunt you down. You should know that we will find you and we will not let you go. We will launch the biggest operation ever against you. Expect massive cyber attacks. War is declared. Get prepared."
It ends with the words: "We don't forget, we don't forgive, expect us."
"Collective cheers were heard around the world when Anonymous released the video on Sunday night," says Arthur Goldstuck, MD of World Wide Worx, who is confident the group getting involved will have meaningful impact.
This is not the first time the hacking group has targeted ISIS. According to pay-walled Foreign Policy magazine, Anonymous has already dismantled 149 ISIS-linked Web sites and flagged roughly 101 000 Twitter accounts and 5 900 propaganda videos.
Rogan Dawes, a SensePost senior analyst, says: "Anonymous may be able to infiltrate communications and coordination aspects of the terrorist group."
He says the best approach after that would be for the group to hand over whatever it finds to the relevant authorities. Dawes is not sure how useful it will be beyond that.
A tweet, pinned to the top of ?the Anonymous (@GroupAnon) Twitter page, reads: "Make no mistake: #Anonymous is at war with #Daesh. We won't stop opposing #IslamicState. We're also better hackers. #OpISIS." (Daesh is an acronym for the Islamic State's Arabic name, al-Dawla al-Islamiya fi al-Iraq wa al-Sham.)
Goldstuck says Anonymous attacks are specifically targeted, with less chance of collateral damage.
"The video was very symbolically powerful because it used the same techniques as ISIS. People do not realise how technology- and Internet-savvy ISIS is. Anonymous has met them on their battleground with this video.
"The terrorist group is powerless to retaliate as Anonymous are what they are: anonymous," says Goldstuck.
What can be expected to come out of attacks by Anonymous, according to Goldstuck:
1. Tremendous vigilance of Web sites created by ISIS and sustained attacks on them.
2. Attempts to compromise ISIS' anonymity.
3. A divergence of ISIS resources as the group will have to invest more in cyber security to keep Anonymous out.
NBC reported ISIS is using a 24-hour online help-desk where terrorists are being trained to use popular messaging services, such as WhatsApp, Telegram and Threema. These services can all be encrypted, making it impossible for the government to monitor.
Dawes says hacking these services may prove very difficult: "The services themselves say they can't do it because the encryption is done at the end."