SASSA and CPS butt heads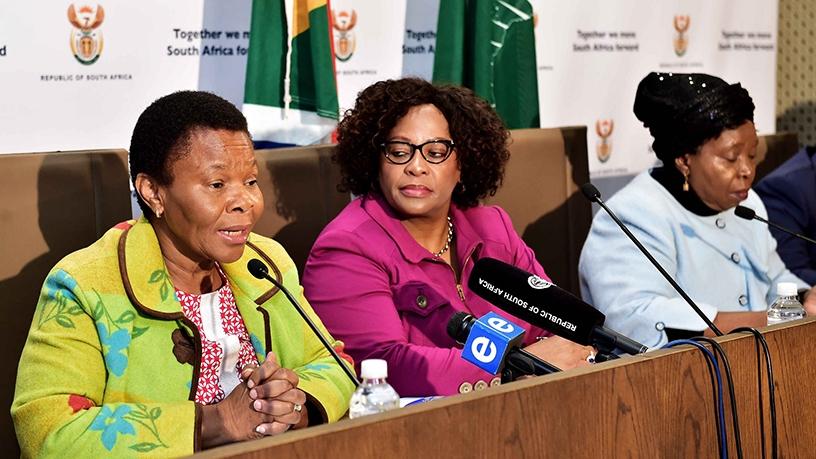 Government says it has taken legal action against people who are interfering in processes facilitating the migration of social grants from the old Cash Paymaster Service (CPS) cards.
Despite earlier indication from Net1 UEPS Technologies, CPS parent company, that it is looking forward to being released from its contract with the South African Social Security Agency (SASSA) in September, there have been allegations that the paymaster's employees are intimidating SA Post Office (SAPO) staff and misinforming beneficiaries.
Yesterday, the Inter-Ministerial Committee (IMC) on comprehensive social security provided a progress report on the swap from CPS/Grindrod Bank cards to SASSA/SAPO branded cards.
The IMC noted the work SASSA and SAPO teams are doing to ensure the card swap is being disrupted.
According to the committee, at some pay points, CPS employees are interfering with SASSA migration processes. "We appeal that CPS officials assist by avoiding misinforming the poor and vulnerable on the process that was agreed upon through the Constitutional Court (ConCourt) judgement."
Technical challenges
At the start of the July-month payment cycle, SASSA experienced technical difficulties with its grants system, leaving beneficiaries with no money in their bank accounts.
The agency confirmed about 8% of social grant beneficiaries that access their funds through electronic means like ATMs did not receive their payments.
SASSA said although it had deposited funds into bank accounts, about 700 000 beneficiaries that use the new payments card could not draw their money at some of the banking infrastructure in the country.
Prior to migrating SASSA grants from CPS to SAPO, there was a lot of scepticism about how the government entity would handle the mammoth task of paying more than 10 million beneficiaries without any interruptions.
In February, Herman Kotze, CEO of Net1, told ITWeb the national postal service needed to iron out a few key issues before distributing social grants. Kotze highlighted that SAPO needed clear systems in place to issue cards to beneficiaries, as well as assert how it will maintain the integrity of the biometrics verification systems.
SASSA has relied on the services of CPS to pay 10.8 million beneficiaries through cash payments, direct deposits and electronic payments.
Seamless processes
Following all the issues with social grants at the beginning of July, the IMC has promised a smoother payments process going forward.
The committee confirmed SASSA and SAPO have entered into an agreement that will see social grant recipients smoothly transferred to the new payment system.
The agreement, signed on 19 June, provides the framework on how SASSA and the post office will work together during the transitional period and ensure a smooth transition that will not disadvantage beneficiaries.
"We are happy to report that great progress has been made in implementing the [Constitutional] Court instruction," said communications minister Nomvula Mokonyane.
"A number of electronic payments of social grants through SASSA, Postbank, commercial banks and merchants were affected from April with fewer disruptions," the minister added.
Mokonyane also noted the state agencies plan to move all cash beneficiaries to receive grants at pay points by the end of August.
No future business
In a statement issued today to ITWeb, Kotze reiterated Net1 and CPS look forward to the final termination of the current contract between SASSA and CPS at the end of September, in accordance with the ConCourt's order.
Explaining the chain of events, the Net1 CEO says during a meeting with social development minister Susan Shabangu two weeks ago, she informed the CPS parent company that SASSA and SAPO were intent on competing in the low-cost banking product environment by offering the new SASSA/SAPO account to grant recipients.
"We responded that we welcome any competition, provided that it is fair and that the grant recipients are free to choose the account of their choice, as they will choose the product that best suits their needs and service requirements.
"In a letter to the Banking Association of SA, SASSA requested the banking community to provide the beneficiaries with bank accounts as well as access to the distribution infrastructure to facilitate grant distribution in urban and rural areas of the country. This is in line with the Social Assistance Act that makes specific provision for beneficiaries of grants to opt for a bank account of their choice. EasyPay Everywhere (EPE) is a fully-fledged bank account that provides its clients with access to mobile and fixed ATM infrastructure nationally, including deep rural where there is little or no banking infrastructure.
"The Net1 infrastructure is fully interoperable within the National Payment System infrastructure and can therefore facilitate distribution irrespective of the issuer of the card. More than 100 000 non-EPE clients have used this infrastructure during the month of July and more than 2.5 million EPE customers were able to access their grants on time when the July payment cycle commenced."
He continues: "Through EPE, we will continue to provide a financial inclusion service to our customer base and through our payment distribution channels comprising of mobile and fixed ATMs and point-of-sale devices, we will provide convenient payment services to our customers or any other bank clients who wish to utilise this infrastructure.
"SASSA has publicly announced its intention to materially scale down the payment service to grant recipients in remote and rural areas through the closure and rationalisation of the existing 9 000 pay points. This provides an opportunity for all banks and payment service providers to provide services to the social grants recipients who will be affected by this decision and should have the choice of where and how they want to access their grants," concludes Kotze.