Nearly 30% of all South Africans use Facebook
South Africans have taken to the big blue social media network with a vengeance, with 29% of the population holding a Facebook account.
This finding is from the SA Social Media Landscape 2018 study published this week. The research was conducted by brand intelligence organisation Ornico and high-tech market research consultancy World Wide Worx.
Nearly 30% of the population equates to 16 million people, up 14% since 2016.
According to the mid-year population estimates for 2017 by Stats SA, 56.52 million people live in South Africa. Of that number, about 29.6% of the population is aged younger than 15 years and approximately 8.1% is 60 years or older.
Facebook requires users to be at least 13 years old before they can create an account. This means a substantial part of SA's adult population has a profile on the social network.
Arthur Goldstuck, World Wide Worx MD, says Facebook almost becomes a proxy for the population in many ways, especially since there has also been rapid uptake by lower-income groups.
He says Facebook has become number three after radio and television for brands and advertisers to achieve maximum reach across the population. Facebook is able to tailor adverts on the network so that different adverts are served to different groups of people, which can make it more effective than the broadcasters.
Earlier this year, it was reported that in the whole of Africa, user numbers have grown by over 40%, from 120 million to 170 million, since 2015.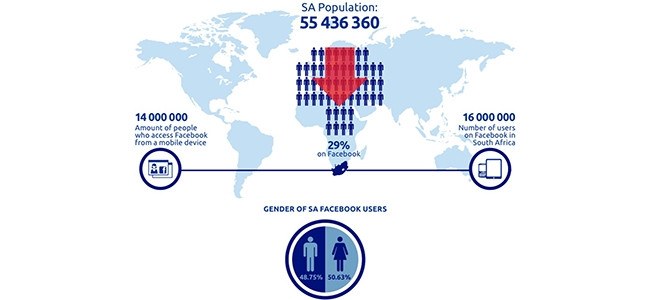 The rapid uptake of Facebook by lower income groups can be attributed to the growth in downloads of Facebook Lite, a stripped-down Facebook app geared specifically for low-end Android devices.
The app is only 252Kb in size and was designed for 2G networks and areas with limited network connectivity. In February, the app reached 200 million users worldwide.
The study showed it was the fifth most downloaded app from the Google Play Store for Android phones in SA, with instant messaging apps WhatsApp and Facebook Messenger at number one and four respectively.
Oresti Patricios, CEO of Ornico, says this is a great example of how tools geared towards the dynamics of a market can make a difference in uptake and penetration.
"The staggering proportion of people accessing Facebook via mobile devices - no less than 87.5% - tells us we can expect mobile to become the default home of social media."
Goldstuck says many of the operators have zero-rated the Facebook Lite app, which has taken away affordability as a barrier to using the social network. He notes Internet access and education remain barriers to uptake.
The General Household Survey 2016 (GHS) by Stats SA showed close to 60% of South African households had at least one member who used the Internet either at home, their places of work or study, or at Internet caf'es.
The World Wide Worx study found that of the 16 million people that have Facebook, 14 million accessed the social network on mobile devices.
The GHS also showed 87% of South African households exclusively use cellular phones to access the Internet. The entity sees communication as playing an important role in the fundamental operation of a society.
"It links people and businesses, facilitating communication and the flow of ideas and information and coordinating economic activities and development," the survey says.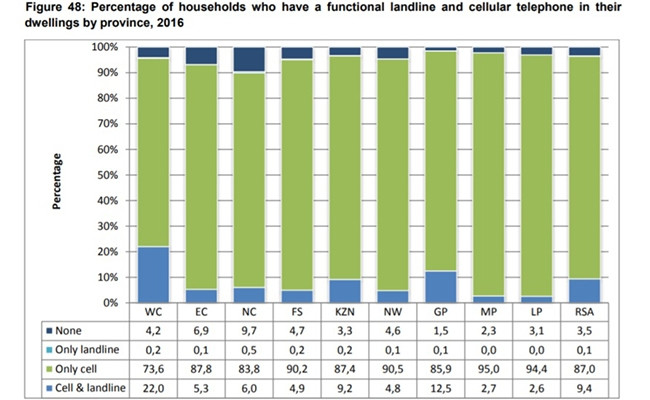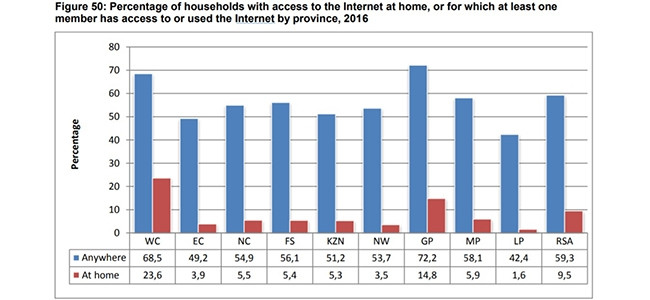 Lagging behind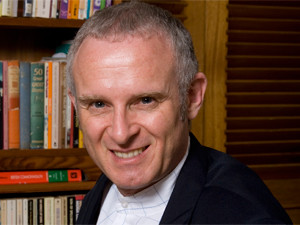 Rival social media site Twitter continues to grow at a slow rate in SA, in line with international trends. It is now used by eight million South Africans, up marginally from 7.7 million in 2016.
"Twitter remains the social platform of choice for engaging in public discourse," says Goldstuck.
"It is exactly half the size of Facebook, but its users get access to vastly more personalities, news sources and opinions - and can become opinion-makers themselves."
Instagram, which was previously the fastest growing app in SA, has seen its growth slow dramatically. It is only up 300 000 from last year to 3.8 million.
Meanwhile, professional network LinkedIn has increased from 5.5 million to 6.1 million.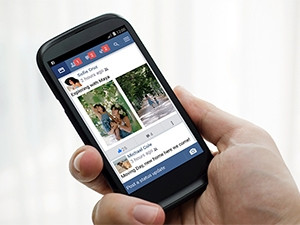 Goldstuck says the most surprising insight was how brands are using social media and how they are obviously getting to grips with it because they are starting to see return on investment.
The study included a survey of social media use by SA's biggest brands, with 118 participants providing insights into their social media practices, strategies and results.
Facebook is in use by 97% of brands, from 91% the year before. Twitter has increased marginally, from 88% to 90%, while LinkedIn and Instagram now both stand at 72%. YouTube has risen slightly to 68%. Declines were reported for Pinterest, Google+, WeChat, WhatsApp and SnapChat.