Review: LG L5II smartphone
The L5II is not going to blow seasoned smartphone users away, but offers everything an entry-level user might need in a device, and more.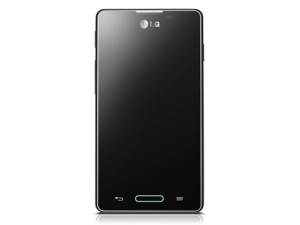 With the sales of smartphones outstripping feature phones for the first time, it's not surprising that handset manufacturers are looking to get a bigger slice of the mobile device pie, and it seems the best way to do this is to cater for all ends of the market - high, mid and low.
According to Gartner, sales of smartphones rose 46.5% in the second quarter of 2013 compared to the same period a year ago, while smartphones accounted for 51.8% of cellphone sales for the same period.
Enter the LG L5II E450, a mid-range device that offers all the functionality of a conventional smartphone, without the heavy price or flashy design.
I got to play with one for two weeks, and although I am considered a high-end smartphone owner, I must admit that I'm a little sad to give this guy back.
Look and feel
The LG L5II is the Baby Bear of smartphones - not too big and not too small, while being pleasantly light. At 117.5 x 62.2 x 9.3mm and just 110g, the L5II is roughly the size of an iPhone 4, albeit much lighter and with more square edges. It features a four-inch WVGA display that provides adequate screen retail space (more than the iPhone).
It feels a bit plasticky - some might say "cheap" - but then this device wasn't designed for its looks, but rather its features. LG describes the rear design as "radiant" with a "shimmering textured finish". Shimmering? Possibly. Radiant and textured? More like shiny and smooth.
There are two buttons on the left side of the device; one provides instant access to Quick Memo (this is customisable), while the other is a volume rocker that can also be used to toggle between silent and vibrate modes. The customisable quick button can be changed to provide instant access to pretty much anything - camera, e-mail, music, browser, calendar, or, for Candy Crush addicts, a favourite game.
The lock-screen/power button is situated on the right of the device, while the front features two capacitive buttons (back and menu) and a centre button that, when pressed once takes you back to the home screen, and when held in produces a list of active apps, which can easily be closed with the swipe of a finger.
The Home button is surrounded by an LED light, which flashes different colours to alert the user of incoming e-mails, calls, messages and low battery.
Getting started
Unlike most smartphones, on initially powering up, the L5II doesn't immediately ask the user to insert date and time settings - this has to be done via the settings feature. Rather, users are prompted to select a language, and set up their Gmail and other mail accounts, including Microsoft Exchange. They are also given the option to deactivate location settings at this point.
And then it's a matter of customising the device to the user's preferences. Running on Android 4.1.2 (Jelly Bean) means users can select which features, apps and widgets to have immediately available on the Home screen and can shuffle others around in the apps menu. Very few of the preloaded apps can be deleted, so having two e-mail icons and three chat/messenger apps makes the screen feel a bit cluttered.
Display, performance and usability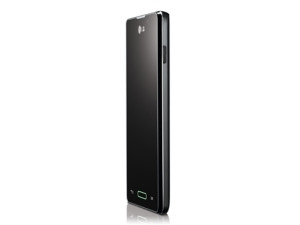 I thought the WVGA (800 x 480 pixels) display would be terrible, but it was surprisingly not. Sure, Instagram pictures don't render quite as sharp, and text doesn't render quite as crisp as in higher-end displays, but I didn't hate it and didn't really notice that it was of lower quality - this could perhaps be due to what LG describes as "True Colour IPS Display".
What I did notice, however, was that it's not the fastest device. Operating on a single-core 1GHz processor meant gaming was a bit jittery and switching between and running multiple apps wasn't as fluid as we've come to expect in this impatient life, but again, this didn't detract much from the device's usability.
On that note, the L5II is a pleasure to use. It's small and light enough to operate with one hand, although the touch-screen is not always instantly responsive and I found I sometimes had to tap an app or key up to three times before getting a response. The keyboard also doesn't seem to be spot on and I often pressed the 's' key when I was aiming for the 'a', but this could just be a matter of getting used to the device. The back capacitive button occasionally also required an extra tap to wake it up.
Features and apps
Without doubt, my favourite feature of the L5II is the humble radio. Every phone should have radio functionality - it's a lifesaver in quiet offices or when waiting in queues when you'd rather block out the outside world.
The Quick Memo feature was also a favourite. This allows the user to take notes on pretty much anything viewed on the screen, including photographs, Web pages, etc. Once you've not-so-subtly circled the piece of jewellery you want from an online catalogue, you can send the screen shot to your other half through Bluetooth, e-mail, social media and SMS, among other options.
I was surprised that the L5II did not come preloaded with the usual social media apps - Facebook, Twitter and the like. It does, however, have full Google functionality complete with all Google apps, including Gmail, Google+ and one just for Google settings.
Other apps and features include Maps, Polaris Viewer 4, a RemoteCall Service, which allows an LG representative to remotely diagnose and support the device (nifty!), a Safety Care guide, which informs selected people when the user is in an emergency situation, as well as standards such as a voice recorder, music and video player, browser and weather app.
In terms of storage, it comes with 4GB ROM and 512MB RAM onboard, but this is expandable to 32GB via a microSD card.
Camera and battery life
I wasn't expecting much from the 5MP camera, but I was surprised by not only the picture quality, but also the extensive range of features packed into the camera. Users can take photos by saying 'cheese'; adjust image size, ISO, white balance, colour effect (mono, sepia, negative) and brightness; and automatically geotag photos.
There's more. Users can select between different scenes, including portrait, landscape, sports, sunset and night, and can also set a timer to delay a shot being taken by up to 10 seconds. Photos can be shared immediately through a number of channels, and, yes, there's a flash and zoom functionality.
To be honest, I felt a bit cheated by my very limited functionality iPhone camera. However, the L5II does not have a front-facing camera, so will obviously not support Skype calling, for example.
It has VGA video recording functionality, and the end result is also not bad. Expect some blurriness if you pan too quickly, though.
I found the battery life more than adequate. It lasted just over a day with constant use (playing games, listening to the radio, communicating, etc). There is an option to switch to battery-saving mode if you're running dry.
In a nutshell
The LG L5II is not going to blow seasoned smartphone users away, but then this device was not made with them in mind. Those looking to buy their first, or a reasonably priced, smartphone, however, will find all the functionality and more in this device, at an attractive price point of R1 999.
Aside from the occasional lag and temperamental touch-screen, I couldn't find much wrong with L5II. I'm annoyed that my phone doesn't have radio functionality after spending two weeks with the L5II - so much so that I'm about to investigate where to find mini radio players.