'Land grab' in mobile payment space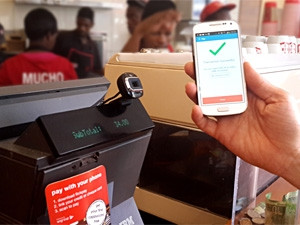 "How would you like to pay for that - cash, card or cellphone?" This is a question that just a few years ago would have baffled consumers, but today - with the pool of local mobile payment apps growing rapidly - it is set to fast become the norm.
FlickPay became the latest local mobile payment app to join the likes of Zapper, SnapScan and VCPay, having launched in Vida e Caff`e franchises last week. Similar to rival apps, using a QR code, FlickPay allows smartphone users (iOS and Android for now) to settle purchases by linking their credit card to the app and through integration with point-of-sales (POS) systems, settling their bill with a flash of the screen.
A slew of similar apps is expected to compete in the space in the near future as companies and individuals leverage the mobile revolution and vie for a piece of the lively m-payments space. And, despite the sudden flurry of activity and associated propensity for hype - industry observers say mobile payment apps are no passing fad.
Tech analyst Liron Segev, from TheTechieGuy.com says, in fact, what we are seeing is "the next frontier of unexplored space" - and it is a land grab right now.
World Wide Worx MD Arthur Goldstuck says a payment revolution is under way as mobile technology has opened up another facet for retailers and consumers that was previously not possible. He notes mobile payment apps go hand-in-hand with traditional payment methods (cash and card) - rather than replacing them.
A fixture
Oscar Ruiz, partner and head of AT Kearney's communications, media and technology practice in SA, says mobile payments are here to stay - and to take a dominant role in the overall payments market.
He notes SA's telcos have a coverage of 95% of the population and more than 400 000 reseller points, versus 30 000 bank branches and around 47 000 ATMs. Ruiz says mobile transactions will grow substantially. "M-payments are also a cost-effective way to drive inclusion, and the current youth segment in emerging markets will push usage as soon as they get more economically active."
Numerous cases show the smartphone revolution SA is seeing can change the way people pay - and multiply transaction volumes, he says. "[For example] music sales (iTunes) have gone from five billion song downloads in 2003 to 2008 to 20 billion song downloads between 2008 and 2013 with iPhone 3G in the market. But the smartphone has a broader financial role than just remote payments. It could be used as a contactless token, a wallet, an authentication device or even as a POS."
The expanding use cases, proliferation of smartphones and consumer education and trust are all factors that are driving the mobile payment space, say analysts. Ovum analyst Richard Hurst says there is a gap that has been identified in the market - hence the swelling activity in the space.
Into the future
FlickPay MD Trent McLelland says the local market is now ripe for mobile payment apps to become a viable option for consumers and retailers alike. It is the low-hanging fruit of added convenience, he says, that FlickPay offers. "We had this idea about three years ago already, but it was too early. Now the mobile and POS space is right."
But this does not spell the end of cash and card, say industry observers. ICT veteran Adrian Schofield says too many people do not have the means to abandon traditional methods. "Yes, mobile payments are the way of the immediate future, but we may well be seeing payments that are person to person, or person to business, in the future. I am suggesting the device will not be regarded as mobile, but as part of the person."
Ruiz says while there is willingness and appetite for a cashless, cardless world, successful cases are not mass market yet. "Predictions are that mobile payment volumes in SA will reach over R83 billion ($8 billion) by 2017, with a 115% compounded annual growth rate between 2012 and 2017."
Goldstuck notes mobile payments should not be confused with mobile money transfers and the success these have seen in East Africa. While SA is ready for the advent of mobile payments as a viable method, consumers and retailers still have a way to go before it is a mass market success, he says.
Ruiz notes that, while the financial sector has recognised the relevance of mobile technology to drive banking penetration, "new business models need to emerge and customers' appetites need to be incentivised to make the jump and fully exploit the digital economy".