WeChat gives away money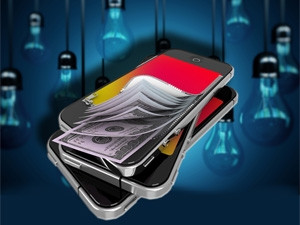 WeChat will give users 2% to 50% back when they make purchases using SnapScan and their digital wallets.
The Chinese messaging app launched its eWallet late last year to allow the app to stand out in the crowded messaging space and get into the mobile finance game.
WeChat head of operations Gerjo Hoffman believes mobile is the future, but says it is early days for mobile banking. "It is at the stage where the horse and the car are going at the same speed; it is about to take off."
To get people to use WeChat's digital wallet, the app is running a campaign in which it will give users up to 50% cash back when they use SnapScan through the wallet.
The rebate will go back into the wallet and that cash can be used again at participating outlets, to buy airtime within the app or draw out at any Standard Bank ATM.
The campaign was launched this week and will run until 18 July.
WeChat previously ran a similar campaign in which customers got a set rebate. The company did not promote it, but relied on word-of-mouth. Hoffman says there was organic and consistent growth in wallet usage during the campaign.
As to why WeChat is giving away money to users, Hoffman says the company is not investing in any TV adverts or other forms of above-the-line marketing. "Instead, we would rather spend that money on our customers and get them to actively use mobile payments."
One customer can get cash back up to three times per day and each cash back is a randomly calculated amount of up to 50% of the purchase, to a maximum of R500.
WeChat partnered with Standard Bank to introduce the digital mobile wallet as part of an extension of its features, in November last year.
The wallet allows users to send cash to friends and family, store bank cards and make instant cash payments within WeChat.
Information of up to three chip and PIN debit or credit cards, which are verified by Visa and MasterCard security systems, can be saved in the WeChat Wallet.
Financial inclusion
People who do not have a bank card have the option to put cash into the wallet via Standard Bank ATMs and participating retailers, including Spar, Cambridge, Rhino and Choppies Stores.
Hoffman says extensive research and focus groups were done when developing the wallet and the company found there were a lot of non-traditional costs involved for lower-income groups.
"For example, people were choosing a bank based on where the closest ATM was to their house to cut down on transport costs," says Hoffman.
The aim of the digital wallet is to eliminate these extra costs.
To use the wallet, the only document that is required is a picture of the user's ID.
Wallet facelift
Next month, WeChat will revamp its digital wallet interface. The updates will focus mainly around speed as well as a lot of user experience improvements, says Hoffman.
"The improvements are based on focus groups and user testing, to make the app slick and easy to use."
Hoffman says the eWallet was not developed so that people will start using other services offered by the messaging app, like games and instant messaging.
"Usage of the full product is not the drive, but if it happens that will be great."