Facebook lets users meet virtually
Facebook's annual F8 developer conference is taking place in California, and the first day saw a variety of announcements, including a virtual reality (VR) app, a bot directory and offline Instagram for Android users.
The VR app, Facebook Spaces, allows users to 'hang-out' with friends in an interactive virtual environment without having to be in the same room. The beta app will be available on the company-owned Oculus Rift this week.
Last year, the company displayed a rudimentary view of how it wanted to eventually integrate virtual reality into social media. Now, Facebook Spaces renders better, more realistic pictures of people, although the humans still look like cartoons.
During his keynote address, Facebook CEO Mark Zuckerberg spoke about augmented reality and how the company plans to use its camera in Messenger to pursue this space.
Find your bot
The company wants to make chatbots within its Messenger app easier to find.
It said it now has 100 000 monthly active bots and 100 000 developers on the platform since launch last year, and two billion messages are sent between people and businesses each month.
A new tab, called Discover, will appear in the messaging app specifically meant for bots. Users will either be able to search for bots here, or scan in the QR code from a particular business.
The company's picture-sharing network also received a shout-out during the first day of the F8 conference. Instagram now supports offline viewing for Android users.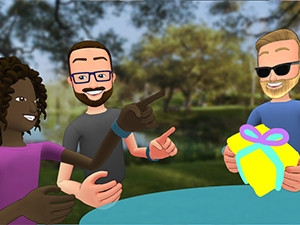 This means users in areas with limited connectivity will be able to view content on the platform, which was previously loaded onto the site when connected to the Internet. Users will be able to like, comment and unfollow people offline, and once they reconnect, the changes will go through. Users will also be able to visit profiles they have visited before.
Other announcements included Developer Circles, a program for developers around the world to connect, learn and collaborate; Places Graph, which gives developers access to data on over 140 million places around the world including restaurants, parks and local businesses; and updates to Facebook Analytics.
Facebook stated it is trying to seize the opportunity presented by augmented reality, with Zuckerberg saying Facebook is an obvious hub for businesses to reach people and experiment with augmented reality.
Eventually, he said, people would use augmented reality on eyewear, although he did not give any details about possible Facebook hardware.
Local developers are taking part in the conference through a live-stream at the Bandwidth Barn in Cape Town. F8 hosts 4 000 people in person and thousands join in worldwide through streams.
Emeka Afigbo, Facebook's head of platform partnerships for MEA, says the conference explores new tools and features, and remote attendees have the opportunity to give feedback to Facebook.
The conference continues today.