HearX unveils hearing test Web app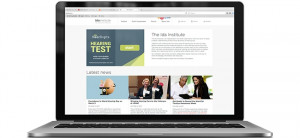 Hearing health solutions company, hearX, has introduced a Web-embedded application that conducts clinically-validated hearing tests using a desktop or smartphone.
According to hearX, the hearing widget, hearDigits was officially introduced today, in acknowledgement of September being global Deaf Awareness Month. The app employs a speech-in-noise test paradigm that determines a person's ability to hear speech in the midst of noise.
Using a speech recognition threshold, the software provides a real-life indication of an individual's hearing ability. Since hearing occurs in the midst of noise most of the time, the test uses a random series of three digits presented with speech-weighted noise. A three-minute session of the hearing test is able to classify the outcome as either normal hearing or a possible hearing problem. Thereafter, users have the option to be connected to a hearing healthcare professional for a consultation, adds the company.
Professor De Wet Swanepoel, co-founder of hearX group, and professor in the department of speech-language pathology and audiology at the University of Pretoria, says hearing loss is a disabling silent epidemic which is often underestimated.
"Hearing loss has pervasive and far reaching effects on development of children including speech, language, cognition and socio-emotional well-being, and is one of the major barriers to educational success. In adults, its effects include social isolation, increased depression and cognitive decline with a threefold increased risk of developing dementia. It also results in higher unemployment rates and lower earning capacity."
Explaining how it works, Swanepoel says upon accessing the Web site, the user will click 'start' to load the test, at which point all the relevant data will be loaded.
"The user interaction with the widget can be divided into three phases: 1) setup, 2) test and 3) connect. The setup phase will collect basic information about the user such as their date of birth and language proficiency, as this data influences the testing criteria.
"The test will then be conducted. A total of 23 digit triplets are played in background noise. After every triplet is presented, the user will be asked to enter the digits they heard. The user's inputs are then compared to the correct digits to determine whether they have any hearing problems," he continues.
The results of the test are sent to data management online portal, mHealth Studio Cloud, for safe storage of patient information and, if necessary, a referral directly to a hearing health provider follows. An e-mail is sent to the linked healthcare provider to notify them of a newly generated lead.
HearX Group was founded in 2013 by Prof Swanepoel and co-founders, Dr Herman Myburgh and engineer, David Howe.
Other products developed by the company include, hearTest, a mobile hearing health application, Peek Vision, a clinically-valid vision tests with cloud data management from mHealth Studio, hearScope, a smartphone otoscope for accurate diagnosis of ear disease.
To take the three-minute hearing test, click here.