Self-service check-in should be user-friendly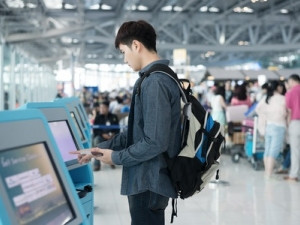 In an era where time is the most valuable commodity, state of the art, user-friendly self-service check-in technology is becoming increasingly important - especially in the fast-paced airport environment where every minute counts.
So says Sumeshin Naidoo, technical executive at engineering consulting firm GIBB, unpacking findings of a recent study which he spearheaded, titled: "Passenger Readiness for Aviation Self-Service Technologies".
The research was conducted by GIBB to gain an understanding of South African aviation passengers and gauge their technology readiness, which is critical to the successful execution of self-service check-in technologies, says the company.
An online survey was sent to databases of airline passengers, of which 770 responses were received. Their responses were based on their experiences using various check-in technologies such as kiosk check-in, Internet check-in and mobile check-in.
"Most of the respondents recommended airlines and airport authorities must provide simple and user-friendly equipment, provide better education and guidance, set realistic goals of adoption and support passengers through the self-service journey.
"The study also found technology must be combined with personal attributes of service delivery for successful implementations," explains Naidoo.
The survey further revealed check-in product designs should be state of the art technology, aesthetically appealing, and interfaced with visual and audio effects and interactive voice response systems, giving consumers increased choice as to place and comfort.
In an example of how time is of the essence at airports, last week, the Department of Home Affairs (DHA) introduced a biometrics system at OR Tambo International Airport - Africa's biggest and busiest airport, facilitating approximately 19 million passengers a year - in a bid to bolster SA's national security.
However, the biometric system process at immigration checkpoints resulted in many travellers and flights being delayed as the department faced operational difficulties on the first day.
Home affairs minister Malusi Gigaba explained the glitch, which has since been fixed, resulted in South African travellers' biometrics details - 10 fingerprints and a photo - also getting captured at the airport regardless of the fact that the DHA already has those details in the national population registrar.
The question remains as to how do we ensure we get passengers ready for self-service check-in technologies, asked Naidoo.
Steven Ambrose, ICT analyst and CEO of Strategy Worx, says a large portion of the South African travelling public is ready and willing to embrace these self-services at airports, which is already a well-established feature of many international airports.
"The recent biometric chaos at ORT Airport was a state intervention which focused on security, not customer service, and as such, cannot compare to service interventions such as self-service at the airport.
"As airports become busier, interventions such as self-service technology will become a critical part of service delivery by the airlines and the airport. I expect that even local immigration and customs will implement some form of self-service such as biometric passport control in the near future," he explains.
In many international airports, adds Ambrose, self-service is an option and not the only method of checking in. It has become a key method to drive efficiency and customer service.
"Elements of this are already available at SA's airports with check-in machines. Full self-service is possible in our airports and will be implemented sooner than later," he points out.
Further findings of the Passenger Readiness for Aviation Self-Service Technologies study revealed consistency should also play a role in ensuring passengers are exposed to the same technology, equipment, location, ambience, etc, at various airports.
Naidoo notes the study is necessary in assisting airport authorities, airlines and the aviation community at large to be better equipped to understand the relevant self-service check-in technologies that are suitable for the South African environment and to understand factors influencing the technology readiness of passengers.
"These results reinforce the role technology readiness plays in customer self-service check-in technologies interaction and is an expected fundamental for long-term business success," Naidoo concludes.