Ster-Kinekor pushes digital, revisits IMAX
The move to digital will help the cinema chain keep up to date with its global counterparts, it says.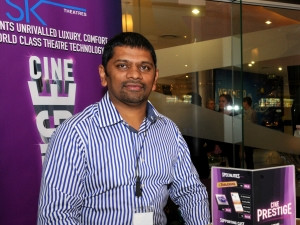 Come the end of 2013, all of Ster-Kinekor's 418 cinemas will be digital, and the brand will soon bring IMAX theatres back to the local market.
Speaking at an event in Rosebank yesterday, Ster-Kinekor Theatre's CEO, Fiaz Mahomed, said the digital conversion has been the single largest investment in the company's history.
"This move has been necessary to secure our leadership position going forward, but it has also become necessary to ensure our survival," said Mahomed. "In the foreseeable future, the studios will no longer be producing 35mm prints of their films, so we need to upgrade our cinemas to accommodate full digital projection before the year is out."
He added that the decision to reintroduce IMAX theatres in SA was one the brand has been mulling over for quite some time. According to Mahomed, the move to digital provided the perfect opportunity, as digital makes IMAX viable.
"Through the digital format, IMAX becomes a more sustainable format in SA. The quality and the quantity of content to sustain the IMAX model is now in place," Mahomed said, adding that the first IMAX theatre will be opened at the Gateway Theatre of Shopping, in Durban, by early November. He also confirmed that a Gauteng-based IMAX theatre is on the cards.
Changing cinema landscape
During the event, Mahomed detailed the brand's plans for the future, particularly in a market where many believe that cinema may soon become a thing of the past.
He acknowledged that the film and cinema landscape is evolving and stressed that Ster-Kinekor is making efforts to keep up with the changes in this market. "Today, we need to be having different conversations around cinema," he said.
In order to stay relevant, Mahomed believes Ster-Kinekor has to keep abreast of what is happening internationally, and the move towards digital forms part of this strategy. Digital makes it easier to fix problems, to upgrade software, to showcase more films, and ultimately, to improve the cinema experience, he said.
There is a lot more flexibility when it comes to digital, he added, allowing marketers to localise their advertising campaigns to target specific cinema complexes and specific films.
"Cinema has had to reinvent itself," he said, concluding that, roughly 40 years ago, the imminent demise of cinema was predicted due to the introduction of television, but today, constant innovation means the industry is still alive and well.