Ford pilot sees 'autonomous' vans deliver food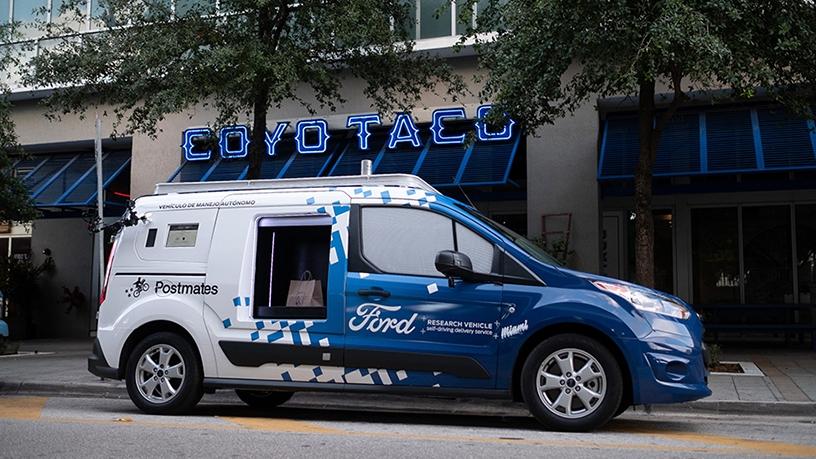 Motoring manufacturer Ford will run a pilot programme for an on-demand delivery service, which will see a 'self-driving' van distribute food from restaurants to customers who order through an app.
The pilot forms part of Ford's research into self-driving business models.
The company will partner with Postmates, a US-based logistics company that operates a network of couriers that deliver goods, to run the service.
Ford says the aim is to gather information on how businesses and restaurants will need to interact with and load a self-driving vehicle, and whether there are any obstacles to overcome.
The vehicles used in this experiment will not actually be fully autonomous, as they are only meant to appear that way to test interactions with people.
"Research vehicles for our business pilots are designed to appear as self-driving; however, they are manually driven by an experienced driver," says Alexandra Ford English, a member of the Ford autonomous vehicle business team.
"The focus of our research is on the first and last mile of the delivery experience. We are developing our self-driving technology in separate test vehicles."
The test will take place in Miami and Miami Beach, with more than 70 businesses participating. For residents in the area, when they order food through Postmates, they will be given the option to have their items delivered by a self-driving research vehicle.
The Ford delivery vehicle is fitted with three lockers, one on the passenger side and two in the back, and a specially-developed Transit Connect system which uses codes for the restaurant employees to access the correct compartments.
"After the restaurant employee types his access code into the screen, one of the lockers will automatically open so that he can place the food inside. When the vehicle arrives at its destination, the customer receives a text notification indicating the delivery is ready for pickup. Upon meeting the vehicle at the curb, consumers enter an access code into the touch-screen and the appropriate locker will open," says Ford English.
"Additionally, services like Postmates must deliver an assortment of products from sushi restaurants, to hardware stores. Therefore, the rear and passenger-side lockers are different sizes to allow us to test optimal vehicle configuration. Ultimately, we are testing how businesses and consumers interact with a self-driving vehicle."
The company says this research will inform the designs of its self-driving vehicles, which are expected to be unveiled in 2021.