Facebook rolls out Gumtree competitor in SA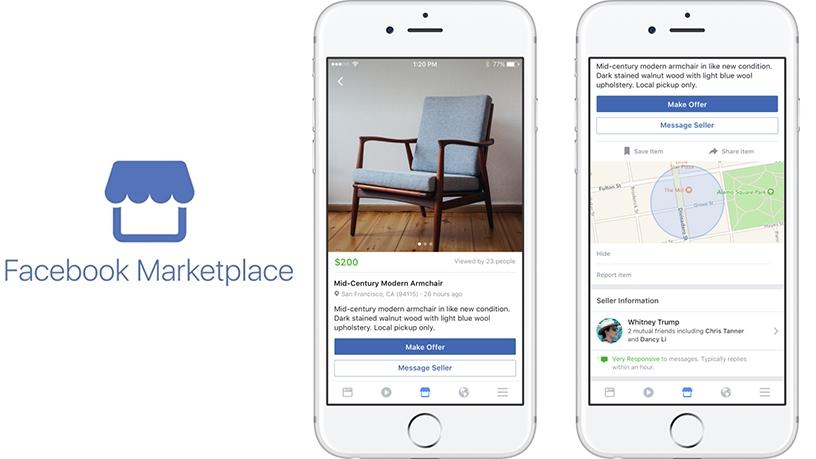 Local Facebook users will soon see a little shop icon appear at the bottom of their social media app, indicating they can now scour their community for used goods or sell off their own unwanted home items.
Facebook Marketplace, an online classifieds facility, launches in South Africa today. It was first introduced in late 2016 to select markets and is currently available in 47 countries, including the US, India and most European countries.
Karandeep Anand, head of product for Facebook Platform, in an interview with ITWeb, said Marketplace was an evolution of activity already happening on Facebook within buy/sell groups - where people were joining hyper-local neighbourhood groups to advertise items they wanted or wanted to get rid of.
South Africa is the first African country to get Marketplace.
"Overall response has been very positive. For the first eight to 12 months we kept it to a few countries and learnt slightly different behaviours in each market. For example, in the US, electronics are dominant, but when we launched in India we saw a huge number of 'handicrafts' pop up on the site."
He noted that even user behaviour is different in different cities, as some areas are more accepting of products in worse condition than others.
In August last year, when it expanded to most European countries, it was reported that earlier that year the US had 18 million items posted within Marketplace. The company is unable to disclose how many items were sold because most transactions take place offline and are paid for in cash.
Anand said right now the US is the best performing market, but he expects that to change as more of the world starts using it.
South Africans on the latest version of the Facebook app will start to see the Marketplace icon appear at the bottom of their app within the next two weeks. Marketplace is also available on Facebook Desktop.
When users go on to Marketplace, they will see items that are on sale within a set radius around them; they can expand the radius or search for specific items. At the moment, Marketplace is limited to items sold within South Africa. Anand said this may open up globally in time.
Users can see all publically available information on the buyer or seller, such as their profile picture and home town.
Facebook will not facilitate the payment or delivery of items and will not take a cut from any transactions. Buyers and sellers communicate and organise these details with each other using Facebook Messenger.
To sell an item, users take a photo within the app, or upload one from their camera roll, describe the item, set a price and post.
Anand explained that Facebook incorporates local laws into what is allowed to be sold on Marketplace and what is not. He added that all posts go through an automated machine review before they are posted online, and a 24-hour team of humans is on standby to manually check any item that is flagged as inappropriate by the community.
World Wide Worx MD Arthur Goldstuck says this has been a long time coming. "It is a natural evolution, but it doesn't necessarily mean it is a 'slam dunk' for Facebook. They have made other attempts at social commerce in the past that have not worked."
He says Facebook is essentially borrowing from the Pinterest model, copying another social media company's idea, like Instagram did with Snapchat Stories.
"It is how people leverage the service which will dictate its success."
The real you
Anand said being able access the buyer or seller's public profile on the platform builds trust and assures both parties they are dealing with real people.
Goldstuck says the transparency and trust factors will motivate a lot of people to use Facebook Marketplace. "The biggest issue with the likes of Gumtree is how easy it is to scam someone. It is almost a daily occurrence, made possible by the anonymity of the process on Gumtree.
"The difference, however, is that Gumtree has a massive audience of people coming there searching for things to buy. Once people discover they can get hard to find products on Facebook at good prices, they will come, but at the moment discovering things on the site is circumstantial not intentional."
Goldstuck says often sellers put the same product on multiple sites, such as Gumtree, eBay, Letgo, OLX and BidorBuy, in attempt to get their wares out to the biggest possible audience. Facebook Marketplace will become another option.
Facebook recommends verifying the item in person in a public place before paying for it. If an in-person meeting is not possible, Facebook recommends using a service like Standard Bank's Shepherd, which keeps the money for a transaction in a trust account and releases it to the seller once the buyer verifies they received the correct item in good condition.
Currently, the most popular items sold on Marketplace are accessories, followed by electronics, and then apparel.
In the US, Facebook has noticed micro-entrepreneurs start to appear - people who are making most of their living through the platform.
There is no shelf-life for posts in Marketplace, but sellers will have to refresh them once a week to make sure the posts show up in the first few results.
Marketplace does not let users advertise services such as plumbing or babysitting on Marketplace yet, but Anand says Facebook is looking into it.