Drug testing device tests substance not the person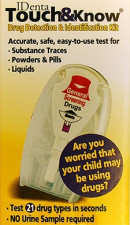 A new drug detection kit that does not require a hair sample or bodily fluids to test whether a person is using illegal substances is now available in SA.
The IDenta Touch & Know drug detection kit is a drug testing device that allows you to discreetly detect the drug on surfaces such as on the table, on your computer keyboard, on bathroom floors without the knowledge of the drug suspect.
According to Vukani Marketing & Consulting, this over-the-counter drug-testing method is able to detect any substance for the presence of 22 different illegal drugs. There is no need for urine or anybody specimen. As little as a nanogram of a suspicious substance is required to produce a result. The kit directly tests pills, capsules, organic matter, crystals, powders, and surfaces, and determines within seconds whether a sample is an illegal substance or not.
Russell Hutton, GM of Vukani Marketing and Consulting, which has obtained exclusive rights to distribute the product in South Africa, says drug screening tests are sometimes deemed too intrusive and personal, and can make the suspect feel ashamed of themselves.
"This kit tests the drug, not the person, there is no confrontation and it's non-invasive.
"This device is ideal for parents or spouses who may suspect someone of using drugs but don't want to confront them without knowing for sure. It's also commonly used by school administrators who may want to test a substance found in a student's locker. No matter what the situation, this drug test will give you quick and accurate information," he explains.
Citing numerous sources, including a UN World Health Report, Hutton says SA has the highest per capita consumption of Mandrax in the world, and consumes double the world average of marijuana annually.
"Children are being indiscriminately lured into taking drugs by dealers who actively target schools, new types of designer drugs are appearing at an alarming rate and drugs like whoonga or Nyaope are being crudely mixed to make 'cheap' fixes for desperate addicts. The consequences are disastrous, often ending in death.
"Many people, particularly parents and educators, are reluctant to approach a person they suspect is taking drugs for fear that this will lead to confrontation, distrust, breaking of relationships and alienation," he reveals.
Explaining how it works, Hutton says the sampler from the kit is dipped in the suspected powder or tablet, after which it is placed back in the kit. By breaking the numbered ampoules as per the pack instructions, the chemical liquid will run down to the reaction chamber and make contact with the end of the sampler containing the suspected substance.
A chemical reaction will take place and a positive colour will indicate the presence of an illicit drug. While the instant results are 99% accurate, he warns that screening requires an actual substance in order to test.
Originally developed by forensic products company IDenta Corporation for use by law enforcement agencies in the US, the kit has now been adapted for general use in various parts of Europe, the Middle East and Asia, prompting Vukani to introduce the product in SA.
"Vukani has partnered with South African National Council on Alcoholism & Drug Dependence (SANCA) who will be able to provide guidance through its care line 0861-4-SANCA in cases where an illegal substance is discovered," he concludes.