There's it! Suzelle tops YouTube hits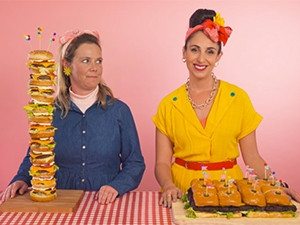 South African YouTube personality Suzelle DIY topped the YouTube Ads Leaderboard for May, with over 400 000 views on her video, "How to make the ultimate burger".
This means the video was the most watched clip in SA during that month.
It far surpassed the second most watched local video, Signature Thrills ? The New C-Class Coup'e in Virtual Reality, with just over 150 000 views.
This was followed by Letgo South Africa app ad ? Cliff TVC ? Why Hang On? with 126 322, Renault Kadjar available with R-Link2 & Video with nearly 50 000 and DOKTOR MOM Herbal Cough Syrup, with 32 198 views.
Google SA said in a statement: "The YouTube Ads Leaderboard showcases the top five most popular and creative video ads watched in South Africa for the month.
"The ranking is determined using some of YouTube's strongest signals of viewer choice - number of views within the country, view rate (how much of an ad people choose to watch), and percentage of organic views versus paid views."
Suzelle's short comic DIY videos have generated a strong South African following. In March, her video 'How to make a cinderblock bench' received over one million views and at the time of writing, it was over two million.
The YouTuber recently signed a deal with Comedy Central to have her most popular videos aired on the channel every weekday at 20:05.
On her Web site, Suzelle explains she will still be making videos for her YouTube channel and that it is not her own TV show.
"Not yet guys! It just takes a lot of money and time to make things for TV. But there will definitely still be Suzelle DIY on Comedy Central and YouTube and there are many other exciting projects coming up. Shhhhhh. I will keep you posted!"
YouTube has over a billion users and everyday people watch hundreds of millions of hours of video on the platform.
Google SA says 80% of YouTube's views come from outside of the US.