Early adopters can now try out the new Gmail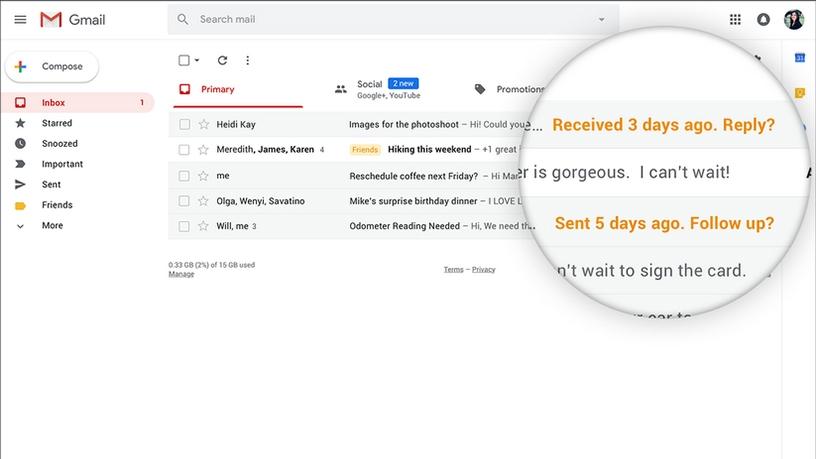 Google has pushed out a major revamp to its Gmail e-mail platform for its paying organisation clients as well as general users.
For the moment, users need to opt-in in their settings to take advantage of the new features, which Google says were made to make people more productive at work.
"Gmail's new look helps you get more done. Click on attachments, like photos, without opening or scrolling through large conversations, use the new snooze button to put off e-mails that you just can't get to right now, or easily access other apps you use often, like Google Calendar, Tasks (now available on Android and iOS) and Keep," says Matthew Izatt, Gmail product manager.
Notifications will now appear on e-mails marked as important, but that have not been opened in a few days, to help users keep track of messages and not let e-mails "fall through the cracks". Google calls this feature the "nudge".
Last year, Smart Reply was introduced on the mobile app, allowing users to pick from a list of suggested responses to e-mails, letting them reply timeously and appropriately while on-the-go. These suggested replies will now also appear on the desktop version of Gmail.
Gmail will also start to push through smart notifications which will suggest users unsubscribe from newsletters they have not opened in a while, or from offers they no longer need.
Google is also upping the security on its new and improved e-mail system. It will alert users with warning notices if e-mails look potentially risky.
Another major new feature being introduced is 'confidential mode', which lets senders remove the option for the receiver to forward, copy, download or print the message.
The company says this would be useful for people who are sending sensitive information such as ID numbers, banking details, or tax returns. There will also be an option for the sender to set an expiry date on the e-mail so that it disappears from both inboxes after a certain period of time, or revoke e-mails already sent out.
To try out the new inbox, admins of organisations need to turn on the feature and sign up for the early adoption programme, then members within the business will have the option in their settings to turn on the new Gmail. General users, not paying for G Suite through an organisation, can find the option called "Try the new Gmail" under settings.
If users find they prefer the old Gmail, there will still be an option for now to switch back.