Jack Ma's business tips for South Africa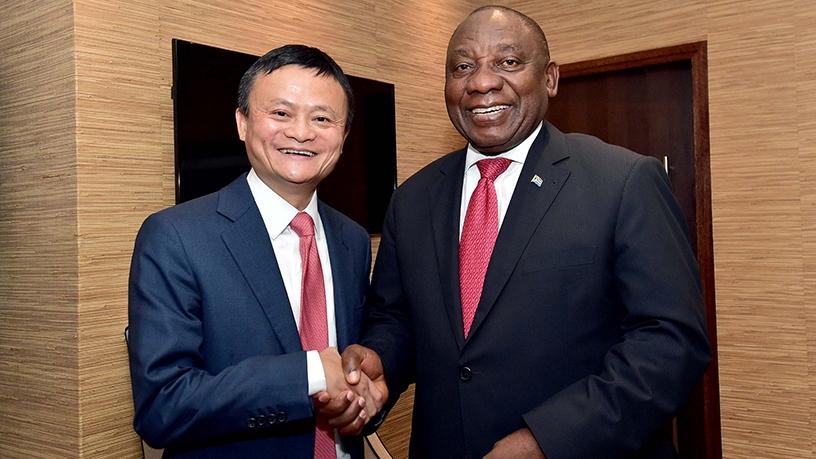 Any country looking to develop should shift attention to improving the education system, investing in entrepreneurs and ensuring clean governance.
This was the message shared by Alibaba Group co-founder and executive chairman, Jack Ma, at the inaugural South Africa Investment Conference held in Johannesburg last week.
Ma was guest speaker at the investment conference that attracted over a thousand local and international investors, government officials and captains of industry, and saw SA secure R290 billion in investments.
SA is looking to attract $100 billion in new investment over the next five years. The conference, announced by president Cyril Ramaphosa, forms part of the investment drive to set the economy on a new path of growth, employment and transformation.
"For a country to develop, there are three basic things that have to be done that are important. The first is education; it's always good to invest in education. Investing in people is the best investment in the whole world. And the second thing is trust; build and support entrepreneurs. Make entrepreneurs the heroes. At the top of this is a good and clean government," stated Ma.
The world needs to adopt changed education systems, he continued. "We have to change the things we teach our kids. We have to do better than the machines; they [children] can be better than the machines."
Entrepreneurship push
Ma cautioned that countries across the globe should be concerned at the growth rate of technology and there should be emphasis on training hubs for young people to become great entrepreneurs.
On his first visit to SA in August, Ma announced the launch of the Africa Netrepreneur Prize. Worth $10 million, the prize is meant to support exemplary young Internet leaders on the continent. It will recognise 100 African entrepreneurs over the next 10 years, focused on grassroots innovation, economic empowerment of women and small businesses.
At the investment conference, the Alibaba co-founder pointed out that young people need to be more innovative, creative and constructive.
"Every country should pay attention to the people who are below the age of 30. They are the Internet generation. Please pay attention to companies with less than 30 employees. This technology evolution is a big challenge for big companies; it's a big opportunity for small companies. Small is going to be beautiful and small is going to be powerful."
Ma encouraged African entrepreneurs to remain optimistic and form relationships, saying he had a lot of faith in the region's business prospects.
Ramaphosa added: "What I particularly liked is that we should treat our entrepreneurs as heroes and move away from what we've become accustomed to where we treat entrepreneurs and call them all sorts of names. We treat them as enemies, with terms like white monopoly and all that. It ends today. We want to make our businesspeople heroes. Let us see them as heroes because they are here to develop our economy."
According to Ramaphosa, the South African government has formed a partnership with Alibaba that will see young South Africans receive training in the near future.
Boost for ICT
Detailing efforts to grow the economy and create jobs, Ramaphosa revealed last month that the administration is determined to make the ICT sector an integral part of the investment drive to attract $100 billion in new investment in the country over the next five years.
The president's sentiments have been echoed by telecommunications and postal services minister Siyabonga Cwele, noting that government seeks investment in network infrastructure, data centres, local manufacturing of equipment and innovation centres.
During the conference, investment announcements were made by companies in telecommunications, ICT manufacturing, transport and energy.
Naspers pledged its commitment to a R1.4 billion start-up fund to boost the South African technology sector. The initiative, Naspers Foundry, aims to fund and support local technology start-ups seeking to address big societal needs.
Over the next three years, the e-commerce giant will invest around R4.6 billion in the sector, with R3.2 billion allocated to the development of its existing technology businesses, including OLX, Takealot and Mr D Food.
Amazon Web Services (AWS) announced it will bring its data centres to the country, opening an infrastructure region in the first half of 2020. The new AWS Africa (Cape Town) region will consist of three availability zones.