Smartphone time guzzles up one full day a week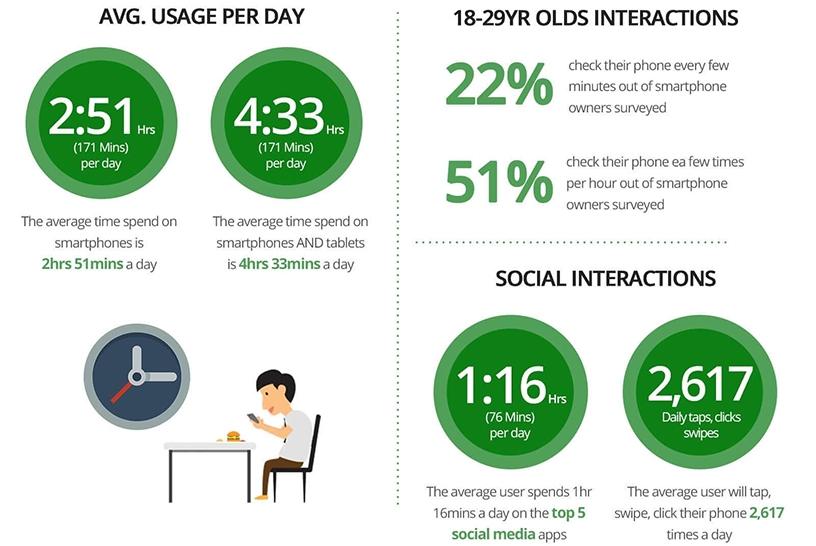 A BankMyCell report states the average smartphone owner spends around three hours every day staring at their pocket computer's small screen, which excluding sleep equates to one full day a week.
The research firm compiled recent data from a variety of sources (including comScore, eMarketer, Flurry, TextRequest, Quartz, MediaKix and Deloitte Global Consumer Survey) as well as from a survey which quizzed 2 186 people in the US on their smartphone habits, to create the report.
The aim was to create a definitive guide to the current state of smartphone addiction in children and adults.
Some of the key statistics show the average smartphone user checks their device 47 times a day, adding up to 17 155 times a year. And every day, the average user taps or clicks their device 2 617 times.
The survey showed 80% of smartphone users check their phone within an hour of waking, and 35% do so within five minutes. The same stats are true for people checking their smartphones before they go to sleep.
The average time spent on smartphones is 171 minutes a day (two hours and 51 minutes). When this time is combined with time spent on tablets, the average time jumps to 261 minutes a day (four hours and 33 minutes).
When looking at specific apps, the report finds the average user spends 76 minutes a day (one hour and 16 minutes) on the top five social media apps: YouTube, Facebook, Snapchat, Instagram and Twitter.
Addiction starting younger
In a survey done on teachers about how smartphones are affecting their learners, it was found that 67% of teachers observed the children in their class being negatively distracted by mobile devices.
The report finds teenagers who spend five hours a day on electronic devices are 71% more likely to have suicide risk factors than those with one hour of use. And those teenagers who spend five hours a day on electronic devices are 51% more likely to get under seven hours of sleep when compared to an hour of use.
A survey shows 89% of parents blame themselves and caregivers for the child's high phone use, while 5% blame children themselves, and 3% blame the device and app manufacturers.
Nearly half of parents (47%) think their child is addicted to their smartphone and exactly half are concerned about the impact on their child's mental health.
Cutting down
The report offers ways for users to stop using their smartphones as much as they do.
Tech giants Google and Apple have both introduced apps in the last year which let users track how much time they are spending on their smartphones and which particular apps are guzzling the most time.
Of the people surveyed, 47% said they have attempted to limit their usage in the past, but only 30% feel they were successful.
BankMyCell found the top five ways to try to remedy smartphone addiction is to: keep the phone out of sight when in social situations, turn off audio notifications, keep the phone out of sight when alone, delete apps and turn off the device at night.