VR social network comes to Google Cardboard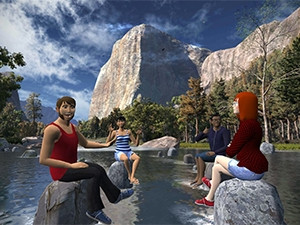 The world's first virtual reality social network, vTime, is now compatible with Google Cardboard.
The app was launched by Starship, a UK-based innovation studio, late last year. It was initially only available to users with the Oculus Rift or Gear VR headsets.
vTime can now be downloaded to a range of Android smartphones to work with Google's low-cost and widely available Cardboard headset. Google has shipped over five million viewers worldwide.
The social network lets users create a lifelike custom avatar and then talk in real-time with up to three other users in a selection of virtual locations. Since launch, it has attracted over 10 000 users in 150 counties.
"vTime is the first truly 'sociable' network on mobile VR," said Starship CEO Martin Kenwright. "Unlike conventional social networks, where you spend time mostly with your PC, tablet or phone, vTime is about spending that precious time with family and friends."
Users can locate existing friends easily by connecting vTime with social media accounts, or searching by name or e-mail address. There is also a random match feature.
All that is needed to make use of the app is a compatible smartphone, the Cardboard headset, and earphones with a built-in microphone.
vTime is available on the Nexus 5, Nexus 4, Nexus 6P, Nexus 6, Samsung Note 4, Samsung Note 5, Samsung Galaxy S6, Samsung Galaxy S7, Samsung Galaxy S6 Edge+, Samsung Galaxy S7 Edge, LG G3, Samsung S3 and HTC One M9.
vTime Cardboard launches with a feature called 'Magic Window' that allows users to use the social network without a headset. "After firing up the app, users can select Magic Window and vTime straight from the handset ? handy for quick sessions when you don't have your Cardboard or Gear VR headset with you," said the company.
The app can be downloaded free from the Google Play Store here.