MobiMoola wins TADHack SA challenge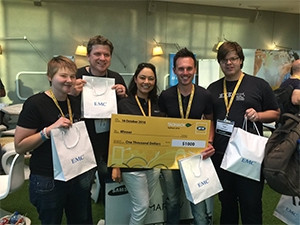 Mobi Moola, an app aimed at enabling cellphone users to pay for public transport using their airtime, was named the winner at the first TADHack challenge in South Africa.
The international TADHack challenge, brought to Africa by MTN, is an international telecoms developer challenge in which innovators from over 30 countries compete to use technologies to address key problems in their communities.
Around 67 developers registered for the challenge, which was staged under the theme 'Decoding Africa. Africa solving African Problems'.
The Hackathon category allowed developers to come up with new ideas or answer a sponsor's challenge, while the Showcase category allowed developers to showcase advanced development or commercial products to put themselves in line for prizes and industry recognition.
Mobi Moola's developers, Bertin Jacobs, Sydney Chadwick, Jonathan Pearl and Stefan Scriba, walked away with a cash prize of US$1 000, a Samsung smart TV, Huawei Ascend smartphones, 20GB data vouchers and wireless earphones.
The group say the challenge they sought to overcome was public transport, where payment for taxis was a common problem for many South Africans.
"When paying minibus taxi fares, people often find they don't have cash on them, or they don't have the exact change needed. We considered current payment platforms to make payment easier, but then we realised that more people had SIM cards than bank accounts in SA, so we decided to use existing mobile technology to allow them to use their mobile airtime to pay for taxi transport."
Mobi Moola uses USSD and could be installed on smartphones or feature phones to wirelessly transfer payment to taxi operators, using airtime from any mobile operator. The taxi driver generates a QR code which generates a USSD string, or a QR code is placed on the side of a taxi and scanned, launching the payment system.
The GirlCode's TADHack Girl Coder of the weekend category was won by the youngest participant at the event, 13-year-old Naledi Phafane.
Naledi, a grade seven pupil from Pretoria, is following in the footsteps of her dad Pule Phafane, an IT businessman.
With one hacking win already under her belt; Naledi secured recognition at TADHack for Pandora, a geolocation app to overcome the lack of formal residential addresses.
The app uses cellphone tower signal triangulation to establish a person's place of residence, and Pandora's creators hope it will be harnessed to serve as proof of residence for the multitudes of South Africans who do not have a formal street address. Father and daughter also recently won the City of Ekhurhuleni hackathon for their Open Robot solution.
MTN CIO Benjamin Marais said the TADHack SA event had been a resounding success.
"I've really enjoyed the energy that I've seen. The cooperation has been good, and we've had a lot of discussion among our participants and sponsors on solving Africa's problems. There is definite potential to utilise and perhaps monetise several of the solutions that have emerged at TADHack. And a good thing about TADHack is that the exposure is international, so solutions showcased in South Africa might end up being used internationally."
The South African winners were:
Mobi Moola - pay for transport using airtime
MTN - Down the Rabbit Hole Challenge - Fulela Mekasi
ZTE pre challenge - Bertin Jacobs
Girl Coder of the Weekend - Naledi Phafane - Pandora
ZTE developer platform - Team SELT
MTN challenge solving - Seven Eleven - mobile data consumption and management app
Most Entertaining - We Think Code II - Bitcoin-based economy for robots
TADHack SA was presented by MTN South Africa, in partnership with ZTE, IBM, Huawei, Mahindra Comviva, Tata, Oracle, Hewlett Packard Enterprise, Integr8, csg international, Wipro, Dell, EOH and EMC.