Train girls to be ICT pioneers, says Ndabeni-Abrahams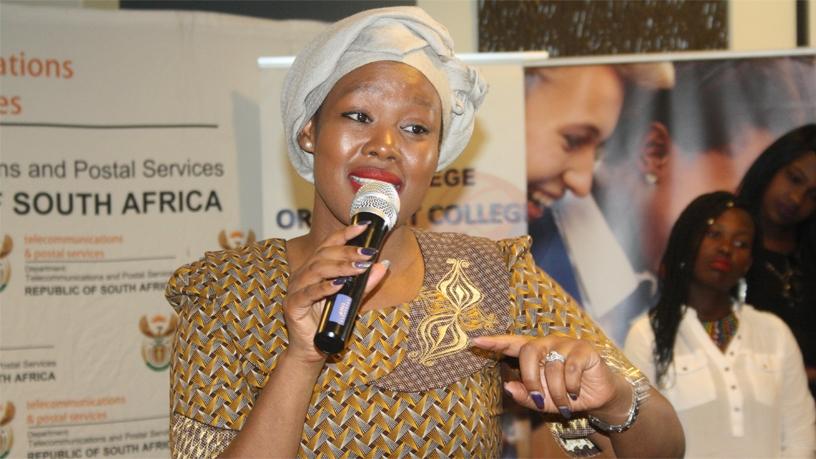 Telecommunications and postal services deputy minister Stella Ndabeni-Abrahams has, in commemoration of International Girls in ICT Day, committed to train 20 young women from the Moses Kotane Local Municipality in the North-West province on domain name reselling.
Speaking to more than 200 females at the Orbit TVET College's Mankwe campus in the North-West, Ndabeni-Abrahams said the training will be part of a bigger project where the department has prioritised the National ICT Women Empowerment Programme.
Ndabeni-Abrahams explained: "To date, the programme has trained 140 young people and we are planning to train many more. Through the programme, we aim to develop capacity and local expertise in aspects of operating as an Internet service provider.
"The department has also, through a partnership with Intel SA, implemented the Learn Easy Steps Digital Literacy course, which is part of the 'She Will Connect' Global Initiative.
"In the 2016/17 fiscal alone, we trained 25 young women on ICTs. We are furthermore implementing various ICT skills training courses and hosting Young Women in ICT Dialogues, which encourage young women to participate in technology fields and increase digital literacy among girls."
International Girls in ICT Day, celebrated on 26 April, is an annual global initiative supported by International Telecommunication Union member states in an effort to help bridge the digital divide by encouraging young women and girls to pursue studies and careers in science, technology, engineering and math (STEM).
Under the theme "Expand Horizons, Change Attitudes", the initiative continued to highlight the value women can and will bring to the tech sector.
Commenting on the importance of the day, Cecilia Mamelodi-Onyadile, SADC senior programme officer for communications and ICT, called on the learners not to shy away from ICT and technologies.
"Since the children of today are born in the information age and are growing up in the digital era, they should see an opportunity in the word 'digital', and should ask the question: If SADC is going digital, how can I as a girl living in these countries benefit the most from the opportunities in ICT? Learners must use their enquiring minds get into their school computer room to master how computers work, ask questions and learn the technology."
Statistics from the World Economic Forum earlier this year indicated that in SA, the proportion of females to males who graduate with STEM-related degrees is off kilter. Women are underrepresented in maths and statistics (4:5), ICT and technology (2:5), as well as engineering, manufacturing and construction (3:10). As a result, there is a significantly smaller pool of female STEM talent, restricting the potential of SA's technology sector.
Lullu Krugel, chief economist for PwC Africa, noted: "The technology sector is an exciting, fast-moving sector, but disappointingly many women prefer to steer clear of careers in technology. Part of the reason is the low number of girls pursuing STEM subjects at school and in higher education. Our research shows that unless we change various cultural and behavioural drivers within organisations, the matter is unlikely to be resolved any time soon."
Closing off the event, Ndabeni-Abrahams encouraged the girl learners to take up subjects in STEM to ensure their participation in the digital revolution, adding there is an array of opportunities available in the ICT sector.