The symbiotic relationship between cutting-edge tech
The evolution of SD-WAN will have a direct influence on improvements in artificial intelligence, machine learning and data analytics going forward.
Data analytics, the qualitative and quantitative techniques and processes used to enhance productivity and business gain, has come of age in 2019 and is being used in many new, innovative ways.
For example, data analytics is one of the drivers for digital transformation. Data engineers are using data analytics to examine anything from buying decisions to behavioural patterns.
The engineers' goals are to extract actionable and commercially relevant data, the study of which can be used to gain in-depth insights that will eventually add relevance to a wide range of performance-related studies – from improved customer service to more targeted buying experiences.
The growth of data analytics is rising significantly as its value is being realised. Last year, reports suggested big data adoption had increased to 59% from 17% in 2015. In 2020, we can expect data analytics to undergo a metamorphosis. New automated, process-oriented methodologies – such as the Internet of things (IOT) – are coming on stream and represent an impressive new wave of development.
Importantly, data analytics is no longer being applied in isolation but in conjunction with other disruptive applications and technologies, including artificial intelligence (AI) and machine learning (ML). They are set to play key roles in assisting users to clear a pathway of understanding through today's increasingly-dense data forest.
Thanks to SD-WAN technology, organisations have gained access to more and better-quality data.
In many industries, AI is already hard at work improving the efficiency of various processes, bringing better products and services to market and building stronger customer relationships.
ML is, in effect, a subset of the broader field of AI. Whereas AI encompasses every human endeavour to make machines behave more like humans, ML focuses on algorithms that help computer programs and systems self-instruct. Some analysts see ML as a preferred method of realising AI.
Against this backdrop, the benefits of AI and ML, when applied to data analytics, are threefold: they relate to the incredible speeds at which data sets can be analysed, the remarkable ability for AI and ML to scale, and the convenience associated with their reliability and intuition.
Expect speed and accuracy to take a further step in 2020 as technologies like facial recognition, Google Translate, "apps" supporting autonomous vehicles and many others gain traction on a global scale.
The spread of AI and ML mirrors the broad acceptance of another technology that has grown rapidly in recent years – software-defined wide area networking (SD-WAN).
Through its centralised control of the corporate network and the real-time and historic visibility of the network it affords users, SD-WAN helps facilitate a range of new-technology advances, including baselining, correlation, prediction and closed-loop feedback.
SD-WAN technology also assists with the incorporation and embedding of AI and ML into modern large-scale networks characterised by new classes of demanding applications.
Symbiotically, ML is influencing the spread of SD-WAN technology because the requirements of these new applications are often far too pronounced for traditional "hub-and-spoke" WANs.
In short, while ML applications are largely dependent on SD-WANs for their performance, AI is used within SD-WANs to deliver smarter networks.
In this light, AI- and ML-infused SD-WANs are able to provide both the cost-efficiency and quality-of-service benefits demanded by organisations investing in the advantages of modern "smart" applications.
Thanks to SD-WAN technology, organisations have gained access to more and better-quality data which, when analysed by AI, gives greater insights into problem-solving and tactical network edge management.
Likewise, by integrating ML capabilities, SD-WANs are able to monitor the network and make pre-emptive adjustments to eliminate any negative influences that may impact network performance and ultimately end-user satisfaction and security.
Working in tandem with SD-WAN technology, AI and ML are also valued in other areas of networking. For example, in network path selection ML assists in congestion avoidance while anticipating future adverse conditions on specific links.
In addition, AI and ML are able to assist SD-WANs when it comes to recognising VOIP traffic, thus optimising identification systems, detecting unauthorised intrusions and improving quality of service.
The integration of AI, ML and SD-WAN technology will lead to the ultimate goal of "zero-touch" networking where everything from provisioning to trouble-shooting is automated.
Zero-touch provisioning enables remote sites (and remote workers where they exist) to get up-and-running within the shortest time without the need for on-site configuration or remote assistance. This supports WAN scalability while reducing the cost of deployment.
As AI technologies improve, zero-touch networks will soon be able to automatically determine which actions to take with minimal or no human intervention.
This is fortuitous as network complexity has – particularly in the light of 5G developments – increased almost beyond human capacity, emphasising the need for automation.
ML technologies are also becoming central to data management in the cloud, ML-supported automation allows enterprises to manage cloud-based data centres and help users perform complex tasks that used to require lengthy, error-prone procedures via a single click of an ML-generated tool.
Industry analysts suggest that cutting-edge technologies such as AI, ML and data analytics are only as effective as the underlying network architecture through which they draw their computing power.
Therefore, the evolution of the SD-WAN will have a direct influence on improvements in AI, ML and data analytics going forward. Looking ahead, we see significantly more powerful, responsive, efficient and intelligent IT networks on the horizon.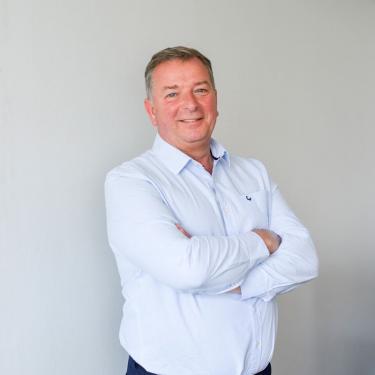 Director, Duxbury Networking.

Paul Stuttard is a director of specialist distributor Duxbury Networking. Currently Cape-based, he has been with the company for 29 years and has extensive experience in the IT industry, particularly within the value-added distribution arena. His focus is on the formulation of future-oriented network optimisation strategies and business development objectives in collaboration with resellers and end-users in Southern Africa.