Enghouse Interactive receives the 2018 Best Cloud Computing IT Project Platinum Contact Centre Award
The prize was awarded to 'Avoris, Telef'onica and Enghouse Interactive at the gala of the Platinum Contact Centre Awards 2018 in Madrid.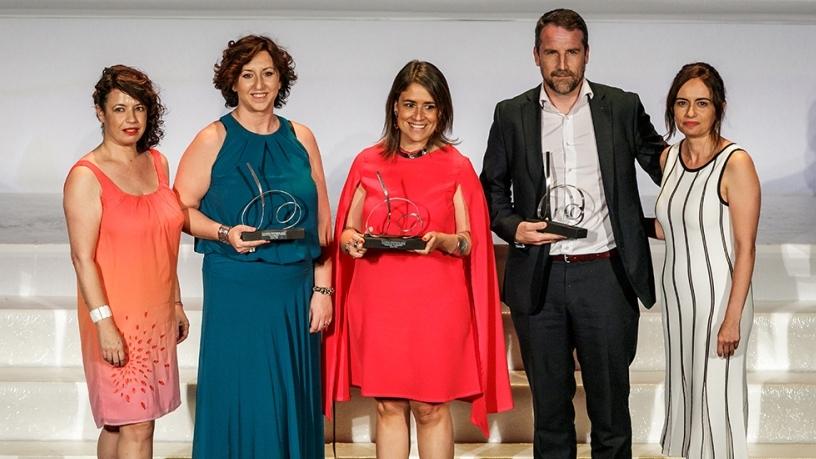 'Avoris, a Barcel'o Group company, along with its provider Telef'onica and the technology of Enghouse Interactive, has been recognised for Best Cloud Computing IT Project during the ninth Platinum Contact Centre Awards gala held on the 28th of June in Madrid. This event recognises the most outstanding companies and solutions in the Spanish customer service industry.
This award acknowledges achievements ranging from the technological innovation of Enghouse Interactive's Contact Centre Service Provider (CCSP) Cloud solution offered by Telef'onica, with best practices implemented by 'Avoris to provide top-level customer service together with the flexibility to adapt to the company's requirements for its growth and internationalisation strategy. CCSP is a multi-tenant cloud contact centre platform designed for providing contact centre in an 'as-a-service' model.
'Avoris is a leading omnichannel contact centre specialising in the tourism sector that serves and supports both B the Travel Brand and BCD Travel customers with a 24/7 service.
"It is an honour for us to be recognised by the jury of the Platinum Contact Centre Awards. This award confirms the strength of our solutions and how they affect and improve the contact centres of our customers", said Jos'e Manuel Clap'es, Country Manager for Spain at Enghouse Interactive.
"For Telef'onica, it is with great satisfaction that we are able to help 'Avoris provide the best experience to their customers using our Contact Centre on Demand solution. This award is not only a recognition of 'Avoris's excellent customer service, but also to the entire team of Telef'onica and Enghouse, who participated in the provision of the service," states Isabel Aceituno, Head of Contact Centre Engineering at Telef'onica.
In the words of Pello Meaurio, Customer Director of 'Avoris: "We are honoured to have achieved the award for 'Best Cloud Computing IT Project' at this year's Platinum Contact Centre Awards. It highlights the quality of our customer service and the flexibility to adapt to the needs of travellers. Avoris continues to drive digital transformation within the company through innovative technology and our commitment to adapt to the needs of our customers, which are the main objectives of the Avoris business model."
The Platinum Contact Centre Awards gala, organised by Contact Centre Magazine, is a reference point in the Spanish contact centre and customer care industry. In its ninth editions, these awards have recognised excellence, quality and innovation of the most outstanding companies in the country, highlighting their efforts and their commitment to continuous improvement and evolution.
With this recognition, Enghouse Interactive reinforces its commitment to innovation and specialised solutions that contribute to the development of the industry.