YouTube gives conspiracy theorists a dose of reality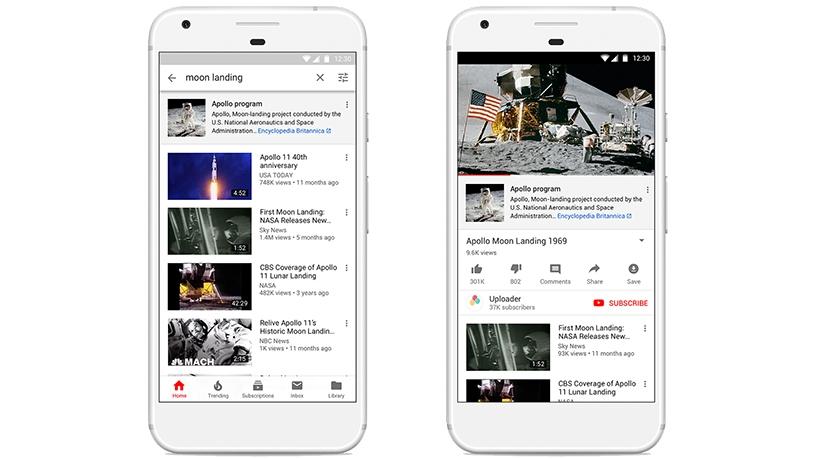 YouTube, the world's largest online video sharing platform, will take steps to make authoritative sources readily accessible to YouTube users.
The Google-owned entity says it wants to provide users with more context to what they are watching, so they can make a more informed decision about what to believe. These features will relate to breaking news and videos about conspiracy theories.
"Authoritativeness is essential to viewers, especially during fast-moving, breaking news events, so we've been investing in new product features to prominently surface authoritative sources," says Neal Mohan, YouTube chief product officer, and Robert Kyncl, YouTube's chief business officer, in a blog post.
To help contain the spread of fake news and misinformation, when a story breaks, YouTube will now list a short preview of news articles in search results on YouTube that link to the full article during the initial hours of a major news event.
According to the 2018 Edelman Trust Barometer, most (69%) South Africans worry about false information or fake news being used as a weapon, but at the same time, the majority (62%) do not know how to tell good journalism from rumour or falsehoods.
More than half (54%) of all South Africans surveyed in this research agree it's becoming harder to tell if a piece of news was produced by a respected media organisation.
YouTube hopes to combat this confusion.
Mohan and Kyncl say the company decided to link out of YouTube to written news articles because: "After a breaking news event, it takes time to verify, produce and publish high-quality videos. Journalists often write articles first to break the news rather than produce videos."
The preview of news articles will also be placed with a reminder that breaking and developing news can rapidly change.
This feature will first roll out in the US, and then the rest of the world in the coming months.
YouTube says it will also prominently highlight breaking news videos from news organisations directly on the platform's homepage, as well as search results.
This was launched this week in 17 countries, including SA, the US, UK, France, Italy, Japan, India, Mexico, Brazil and Nigeria.
Other than breaking news videos, YouTube wants to provide more context to videos about harmless as well as damaging conspiracy theories.
"We believe users should be able to choose and make their own judgements about the information they consume, along with context to inform their judgements," say Mohan and Kyncl.
"Users will begin seeing information from third parties, including Wikipedia and Encyclopaedia Britannica, alongside videos on a small number of well-established historical and scientific topics that have often been subject to misinformation, like the moon landing and the Oklahoma City bombing."
YouTube says it will continue to build upon and improve these new features.