iPhone 5 drought vexes consumers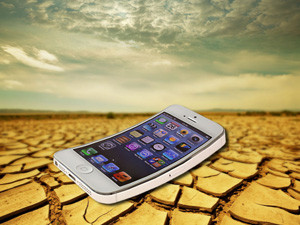 Scores of South African consumers aspiring to get their hands on Apple's latest smartphone have been left disgruntled and frustrated at what appears to be a dearth beyond the usual supply and demand scenario.
While demand for Apple's sixth-generation iPhone, the iPhone 5, has been characteristically high since it was released in SA last month, this year has seen unprecedented numbers flocking to network operators for the phone - and operators are struggling to keep up.
SA's four main mobile companies opened sales of iPhone 5 to the public around the middle of last month and there is already a widespread shortage.
iStore SA confirmed the iPhone 5 has elicited exceptional interest. "iStore has seen unprecedented demand for iPhone 5 since launch, both in terms of customers purchasing for cash, as well as on cellular contracts."
In line with this, says the company, "iStore has seen far better availability of the product compared to previous launches and we expect to have good availability going forward".
Consumer cries
But many consumers, eager to share in the shipment, have voiced frustration online, via social media and in particular customer service site HelloPeter.com, over the difficulties they are having in getting an iPhone 5 - or even communication and feedback on where they stand. Some say they have been on a waiting list since news of availability first emerged - and are still waiting.
The following HelloPeter.com posts reflect the overall state of affairs:
"Been on a waiting list for weeks now and when I chase the store (MTN) they cannot tell me when they will expect more stock and, more importantly, when I might expect to receive a phone."
"I understand that a new iPhone will always have a long list of people waiting for it, and I was more than willing to wait. My problem is that I put my name on various waiting lists, as soon as Vodacom announced the launch date. I am still waiting."
"After filling out the online pre-order form for an iPhone 5 (for myself and for my wife) and not receiving a call or anything by the release date, I decided to start hunting for two new iPhone 5's (sic) by calling Cell C stores in my area on the date it was meant to be released. No stock anywhere."
"I have put my name on a few waiting lists at different branches because they have no stock. They don't know when they are getting stock, or how much stock they will be getting."
Cell C told ITWeb that, in order to secure an iPhone "when more stock becomes available", customers can leave their details at any Cell C store or reseller.
Also regarding waiting lists, one MTN subscriber sought answers via HelloPeter in a post last week:
"In early December (before 14 December 2012), I signed up (using my MTN mobile number and e-mail address) via the MTN Web site for their 'iPhone 5 waiting list'. To date, I have heard nothing from MTN and even my Tweets to MTN on their Twitter account both went unanswered and even deleted."
In a reply to the complainant, posted the next day, MTN said the pre-booking facility for the iPhone 5 was made available on its Web site and in designated MTN stores. "However, due to the high demand for the handset, stock was also sold on a first come, first serve basis in MTN stores countrywide."
Operator feedback
SA's operators say the latest supply/demand debacle is the norm when it comes to Apple products, and the overwhelming response to the release of the latest smartphone was anticipated.
Nomsa Thusi, Vodacom executive head of media - products and services, says the new iPhone has been "a big hit" with customers over the holiday season. "We've largely been able to keep up with demand, although some specific models, particularly the higher capacity ones, have been harder to come by."
SA's second operator, MTN, says it is "encouraged by the satisfactory uptake of the iPhone 5" and that stock availability is dependent on what is made available to the company. "The high uptake of the iPhone 5 is not unique to MTN as demand for devices, in most occasions, outweighs the supply." MTN says it expects new stock to arrive this month.
Cell C says the popularity of the iPhone 5 "does mean that there has been high demand for it and stock availability will have varied from area to area".
Telkom says the consumer response to the release of the new iPhone through its mobile arm 8ta has been "overwhelming".
"While some 8ta channels sold out their initial forecasted stock over the festive season, deliveries of the device have increased towards the end of December. 8ta currently has sufficient stock of the Apple iPhone 5 to process customer orders."
Name of the game
Ovum senior analyst Richard Hurst suspects there is a lot of "back and forth" going on behind closed doors between vendors and operators - and that the shortage of new iPhones boils down to inevitable supply and demand challenges.
"I don't think the operators are to blame. They are more than happy to get the devices into consumers' hands and I think they are equally frustrated. If you look at worldwide shipments, inventory is taken away from some areas to make up for shortfalls elsewhere, following demand. It is very difficult to gauge what the consumer response will be accurately, although [the industry] seems to run into this at every launch."
Hurst says, ultimately, it all bounces back to the vendor. "If the operator has the devices, they will put them in the hands of end-users."
Dog eat dog
Spiwe Chireka, a senior analyst at market research firm IDC, feels otherwise. She says operators have a bigger role to play in the consumer dissatisfaction story.
"I believe that the issue of marketing devices when they are not available is a case of operators looking for bragging rights on matters pertaining to 'cutting-edge technology'. Given that all the service providers are on par regarding their offerings and pricing, none of them want to be left behind or to be seen as slacking regarding 'first to market', they continue with these practices.
"This is where laws such as the Consumer Protection Act need to come in to curb what could be viewed as a misleading practice. But then again one can argue that they are not breaking any laws, but rather just trying to stay ahead of the game in this cutthroat telecoms market."
Apple did not respond to questions by the time of publication.