Hey Jude takes off globally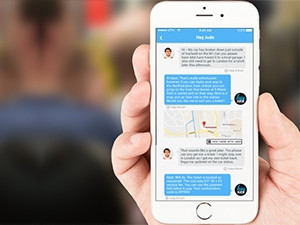 Locally-developed personal assistant app Hey Jude now has over 3 500 users in SA, New Zealand, Australia, the UK and UAE.
The app uses real people to assist with the user's to-do list. The company has, at any time, between 20 and 100 call agents on-hand worldwide.
Users pay a monthly subscription fee of R199 to access the service 24/7. Credit card details are securely stored within the app and used by the personal assistant to complete payments on the user's behalf. Hey Jude charges a 5% fee on every transaction.
'Judes' can be asked to complete admin tasks such as sourcing of products for the home, restaurant bookings, appointments, finding unique items, courier, travel bookings, accommodation, airport shuttles, car licence renewals, locksmiths, electricians, plumbers, and dealing with local councils on their behalf.
The app also integrates other mobile apps like Uber, Airbnb and Open Table for seamless interactions.
Don't make it bad...
Innovation architect and Hey Jude developer Marcus Smith says: "I was underwhelmed by the promise of bots like Siri and Amazon's Alexa and the actual user experience ? there might be a time when machines will be able do all these things, but until then we are filling in the blanks with a blended AI-human solution."
Earlier this year, the UK's Telegraph reported on an incident where Alexa placed an unwanted order after being prompted by a TV programme.
Echo devices in a number of UK homes picked up an order request from a TV show to purchase doll houses online. Users have since been advised to use passwords for commands of online purchases.
Take confused tech and make it better
Hey Jude explains how its app and blended AI and human approach makes for a smoother experience: "You want to find out where the best bistro is? They [the human agents] will let you know. Then make the reservation and give you directions [using Uber]," the company said in a statement.
"Oh, you've just remembered the mother-in-law's birthday, so you need a bouquet of flowers delivered. The geyser bursts and you need to find a plumber, but want a few quotes before giving the go-ahead. They will sort it. Your favourite rock group is hitting town. They'll pay for the tickets and get them to you. The list goes on and on."
The company says the only proviso is that requests have to be legal and morally acceptable to most people. "We will always get you an answer, no matter what you ask us."
Hey Jude says the app is being used by a wide variety of people aged between 20 and 50 within the 8 - 12 LSM groups. Its largest user base is in SA, followed by the UK.
It plans to reach 10 million users worldwide by 2020.
Hey Jude offers three free requests for users to try it out. The app is available to Apple and Android users.