DigiTruck aims to sharpen youths' coding skills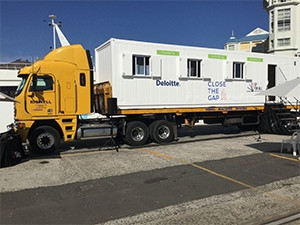 Although some schools in Langa Township, Western Cape, have ICT labs, their equipment is either outdated, or there is no Internet connection, or there are a lack of trained ICT facilitators in schools.
This is according to Sihle Tshabalala, co-founder and national coordinator of youth development organisation Brothers for All. His organisation recently partnered with Deloitte Belgium and educational support initiative, Closing the Gap to unveil a mobile solar-powered DigiTruck in the Western Cape.
The unit, which has digital infrastructure to fit 18 students at a time, is a solar-powered mobile, a grid-independent IT unit that consists of 20 fully configured laptops, one LED screen, one printer, two routers, two SSD disks and LED lights.
According to Tshabalala, the DigiTruck aims to bridge the digital divide for learners and out-of-school youth from vulnerable and rural communities, providing them with access to the latest technology and equipping them with relevant digital skills.
"Around 60% of community members in Langa township are unemployed, we had to bring something innovative and relevant that will shape the future of both schoolgoing youth and those who are unemployed such as high school dropouts, teenage mothers and ex-convicts," explains Tshabalala.
He points out unemployed youth enrol for a six-month course which runs from Monday to Friday, while schoolgoing pupils take up classes only as an extramural activity.
"Coding is a scarce skill globally and in SA we lack software developers. Through the DigiTruck we will teach the youth of Cape Town an array of skills including JavaScript, HTML, CFF, PHP, Git, Sequel Pro and more," adds Tshabalala.
Deloitte Belgium says the DigiTruck which was unveiled by Archbishop Desmond Tutu, a patron of Close the Gap, is currently situated at the V&A Waterfront, after which it will move to Langa and across SA where learners between the ages of seven and 35 will be trained.
Director of Deloitte Belgium, Netherlands and founder and MD of Close the Gap, Olivier vanden Eynde says:" Technology is fast changing the face of education, learners today not only have computers to help them with schoolwork but they also use the Internet for research while teachers use technology to enhance lessons , yet very little ICT infrastructure exists in vulnerable communities."
He adds through the Digitruck, Deloite Belgium hopes to positively impact the education of learners in rural communities with technology.
"We realise that access to new technologies in rural and off-the-grid communities is a challenge. As a fully autonomous, solar-powered unit, the Deloitte DigiTruck will travel to various communities across SA to inspire learners to experience the power of technology through education," explains Vanden Eynde.
Head of Deloitte Cape Town, Marius Alberts, says he hopes this initiative will see children from SA and Europe come together and exchange ideas and experiences, which will ensure the sharing of ideas across continents.
"Deloitte's support of the initiative will allow for skills and knowledge transfer, which may inspire learners to pursue careers in the IT space, or to follow an entrepreneurial path in this sector, which they would not have ordinarily been exposed to," adds Alberts.
He emphasises Deloitte's commitment to this project, which he says is aligned with the National Development Plan (NDP), government's strategic vision for the country that calls for corporate SA to promote employment and education.