BlackBerry's secret recipe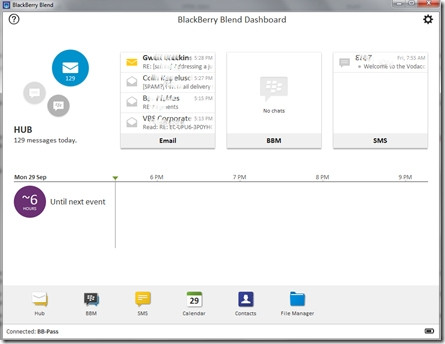 Last month, BlackBerry launched its new flagship device - the BlackBerry Passport. While all attention was given to the device itself, only a small mention was made of a pretty significant piece of software - BlackBerry Blend.
In a nutshell, BlackBerry Blend allows the BlackBerry device to be connected securely to a PC or Mac or an Android device or Android tablet. Once the software is running on the device of choice, Blend allows users to interact with their BlackBerry phone as if they were using the device itself.
Here is a quick overview of BlackBerry Blend:
BlackBerry Blends essentially creates a secure connection between the BlackBerry phone and PC/Mac/tablet. This connection is either made via a physical cable or WiFi, or even via the Internet. Therefore, you can access your BlackBerry phone regardless of where the phone is actually located in the world.
Why is this significant?
BlackBerry has around 33 000 commercial and test servers of BlackBerry Enterprise Server 10 (BES10) installed to date, which allows companies to manage all devices across other platforms, including iOS and Android. BlackBerry is the only company that can support this full range of companies' mobility management requirements. There are more than 2 600 enterprises comprising 1.2 million workers that are trying the multi-platform, secure BES10. This allows BlackBerry to compete head-to-head with other mobile device management platforms such as Good Technology and Mobile Iron.
Remembering that the BlackBerry Passport is aimed at the enterprise market, it is important to note that enterprise is security conscious, and enabling the mobile workforce comes with a heavy price of having to manage various mobile devices. Security needs to be controlled to prevent company information from leaking. Providing mobility but still being secure is a balancing act that IT departments have to deal with - they can't make the system so secure that it's impossible for the user to use; and they can't make the system so open that any device can connect to it.
This is where BlackBerry Blend will make a big difference to the headaches of IT departments, and in solving the issue of mobility for users.
Here's how: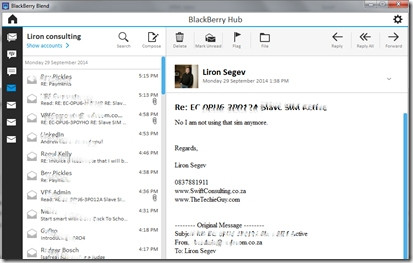 Blend works for the corporate user in two ways. It allows the corporate mail and calendar to be used on non-work computers, and it allows the private mail and calendar to be used on corporate computers.
1. Corporate mail on a private computer
Corporates have strict IT policies that don't allow just any device to connect to the corporate network. Corporates have invested time, money and infrastructure to set up BlackBerry Enterprise Server, which allows their users secure remote access to the company's mail. This is done via the BlackBerry phone itself, allowing for remote working.
What BlackBerry Blend has done is marry the convenience of any PC or tablet with the security of the BlackBerry Passport. In other words, corporate users can now use their own home PC or their kid's tablet to remotely access the company's mail and Intranet, without breaching company IT policy and without leaving a trace of information behind on the host machine.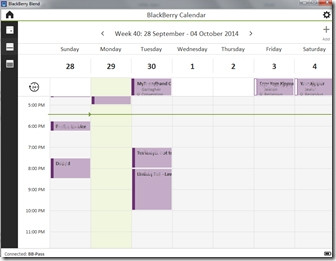 Blend takes care of the complicated security work of VPN tunnelling and essentially becomes the gateway device. Once the security has been established, copying files and working on company documents can be done with the convenience of a keyboard and mouse on the computer. E-mails can be sent directly off the device, including attaching of files, all via Blend.
2. Private mail on a corporate computer
Corporates have strict IT policies that don't allow personal e-mails to be downloaded to the work computer. This comes with the risk of viruses and the leak of corporate information via the personal e-mail account that the business does not manage. With Blend, corporate users can connect their work computers or work tablets to their phones, and keep an eye on their personal e-mail, all without compromising the IT policy of the company. No mail is downloaded onto the machine and no viruses can transfer across from the BlackBerry to the work computer.
All about productivity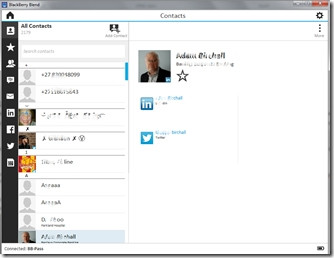 We usually leave our phones on our desk while we work on our computers. Our brains are automatically trained to instinctively stop working as soon as the phone vibrates, alerting us to a new message. We then look at the device to see who the message is from, deal with that message and return to our work. This is highly distracting, yet we fear turning off all notification 'in case' an important message or an important phone call comes through.
BlackBerry Blend takes away that anxiety and allows us to work without the fear of missing anything.
As soon as a call comes in, Blend alerts the user of the call, complete with caller ID. As soon as a notification comes from a calendar, BBM, instant messages, e-mail, SMS, etc, Blend shows that message on the bottom corner of the screen. The user can either action that message or continue to work - all without lifting a finger from the keyboard.
Beyond just mail, what does Blend do?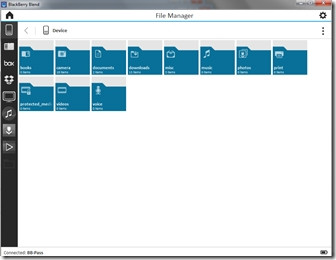 According to BlackBerry, the following can be done via the BlackBerry Blend software:
* Never miss a BBM or text message: BlackBerry Blend brings all your BBM and text messages from your BlackBerry smartphone to an integrated messaging hub now available on your computer and tablet.
* Use your smartphone as a mobile network hub: Gain secure access to work e-mail, calendars and important files on any device connected to BlackBerry Blend.
* Transfer files across devices: Save files from your computer to your BlackBerry smartphone so they are accessible on any device connected to BlackBerry Blend.
* BlackBerry security, across your devices: Powered by the BlackBerry device through the BlackBerry network, this seamless experience is also secure. And IT administrators can rest easy, as they have the ability to set BlackBerry Blend parameters for users that match their security guidelines.
* Unified calendar management: BlackBerry Blend merges all of your work meetings, personal appointments and events into one view.
* Connect anywhere, anytime: BlackBerry Blend can connect wirelessly via WiFi or cellular connection, or wired through the USB port on your PC. Once connected, use your BlackBerry ID on your computer and tablet to connect to BlackBerry Blend.
Spill the sauce:
BlackBerry Blend is the secret sauce that underpins BlackBerry's enterprise and is the solution for the bring your own device trend. IT managers can keep control of the corporate info without heavily restricting (and frustrating) the corporate user.
This is version one of the BlackBerry Blend, and I am sure - in new versions - there will be even more functionality.