Top YouTube moments of 2015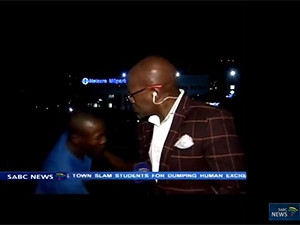 This year, South Africans have mostly entertained themselves with news, policemen and politicians on YouTube - as the top 10 most watched views on the platform reveal.
The online video giant has released the top trending videos in 2015 for SA and globally. There was little overlap between what South Africans were choosing to watch and what the whole world tuned in to.
Top 10 videos watched in SA in 2015, excluding major music labels:
1. Vuyo Mvoko mugged by sabcdigitalnews
2. Female JMPD Officer by Simphiwe The Stunt Bongelo
3. Noko Mashaba - iNumber Number by Ramscomics
4. Bogus police attempts to hijack couple in Pretoria by Rekord Pretoria
5. The Daily Show - Trevor Noah Continues the War on Bulls**tby Comedy Central
6. Noko Mashaba - The Interview by Ramscomics
7. President Zuma jokes about Nkandla in Parliament by sabcdigitalnews
8. I don't want to see a white face - Mugabe by News24Video
9. Zuma fumbles as he clarifies ANC membership numbers by eNews Channel Africa
10. SA's Got Talent 2015: DJ Arch Jr by ETV
Top 10 music videos watched by South Africans:
1. Wiz Khalifa - See You Again ft. Charlie Puth [Official Video]
2. Ellie Goulding - Love Me Like You Do (Official Video)
3. Taylor Swift - Bad Blood ft. Kendrick Lamar
4. Maroon 5 - Sugar
5. Omarion Ft. Chris Brown & Jhene Aiko - Post To Be (Official Video)
6. Silent'o - Watch Me (Whip/Nae Nae) (Official)
7. Rihanna and Kanye West and Paul McCartney - FourFiveSeconds
8. Sia - Elastic Heart feat. Shia LaBeouf & Maddie Ziegler (Official Video)
9. Taylor Swift - Style
10. Major Lazer and DJ Snake - Lean On (feat. MO) (Official Music Video)
Global top videos
The top trending videos for 2015 are not just based on the number of views, but also views, shares, comments, likes and more.
This year, the top trending video worldwide was Silento - Watch Me (Whip/Nae Nae). This was followed by Clash of Clans: Revenge Super Bowl commercial, and then the Crazy Plastic Ball PRANK!! Other videos in the global top 10 included Mean Tweets - President Obama Edition, Dover Police DashCam Confessional (Shake it Off) and a lip-sync battle between Will Farrell, Jimmy Fallon and Kevin Hart.
The 2015 top trending videos were watched for over 25 million hours and were created by channels with over 40 million subscribers between them.
2015 is the seventh year YouTube has complied a list of the most popular videos.
Top videos in previous years:
2014: The mutant giant spider dog prank
2013: Yivis' The Fox
2012: Psy's Gangnam Style
2011: Rebecca Black's Friday
2010: The bed intruder song
2009: Susan Boyle's Britain's Got Talent audition
YouTube says there is no secret formula for making a video go viral, but: "Popular videos tend to be entertaining or informative in some way; they're something that you want to share with other people, and they come from a channel with more videos like it."
YouTube has over a billion users worldwide, with 80% of YouTube's views coming from outside of the US. This year is the fastest growth the video platform has experienced in two years. The number of hours people spend watching videos is up 60% year on year, and the number of people watching YouTube per day is up 40% since March 2014.