Emirates offers LinkedIn learning courses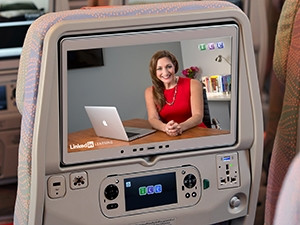 Emirates has partnered with LinkedIn to provide passengers with select LinkedIn learning courses. The airline says it is the first international airline to make these courses available on board.
According to Emirates, the new offering, delivered through its inflight information, communication and entertainment in-seat screens, is available from this month. The free expert-led LinkedIn learning courses range from 20 minutes to over 2 hours long and cover topics such as leadership, general management, marketing and creative lifestyle.
The training course initiative is part of Emirates' continued commitment to providing new and diverse inflight entertainment (IFE) content, adds the company.
Among the featured content are courses such as Managing Stress and Learning from Failure by Todd Dewett, TEDx speaker and author, and Creating Your Personal Brand by Lida Citro"en.
Fouad Caunhye, regional manager at Emirates SA, says the courses feature high-quality, personally curated and easily digestible information to cater to varying interests and profiles of customers on board.
"The courses complement the current IFE offering of up to 2 600 on-demand entertainment channels including the latest blockbuster movies, award-winning television series, dedicated children's entertainment, a huge music library and seat back games.
"For those looking to improve their photography skills just before landing at their holiday destination, David Hobby, photographer and author of the Strobist.com lighting blog, hosts two courses - The Traveling Photographer: Dubai and The Traveling Photographer: London for quick tips and tricks," he adds.
This year, Emirates clinched its 12th consecutive World's Best Inflight Entertainment award at the Skytrax World Airline Awards.
According to emirates, currently 85% of the airliners' fleet is equipped with free WiFi on board, including all A380 aircraft. In addition, 108 aircraft are equipped with live TV, which has up to nine channels of live news and sport.
Other courses available include lectures on productivity at the workplace by David Allen, the creator of GTD, the popular Getting Things Done methodology and Gretchen Rubin, writer of the New York Times bestsellers: Better Than Before, The Happiness Project, and Happier at Home.
"The LinkedIn learning courses will be regularly updated to include new topics," concludes Caunhye.