Canon builds on success for tomorrow's offices, in-house print rooms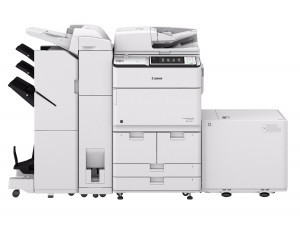 Canon Europe, world leader in imaging solutions, today announces a new range of monochrome multifunctional devices (MFDs) for busy offices and in-house print rooms. Designed to help address business concerns around organisational costs, security, and employee productivity, the imageRUNNER ADVANCE 6500 and 8500 PRO series include a range of enhancements to reduce the total cost of documents, secure information and improve workflow.
Rayner Botha, product manager at Canon South Africa, comments: "The imageRUNNER ADVANCE devices launched today are extending Canon's wide range of print solutions and building on award-winning capabilities to address the needs of businesses today and in the future."
Reducing total cost of documents
Ninety percent (1) of the total cost of documents is hidden and relates to the cost of handling and publishing documents as well as managing devices. The imageRUNNER ADVANCE 6500 and 8500 series reduces these hidden costs through easy management and operation as well as powerful document capture and publishing capabilities.
By far the greatest hidden cost of print is associated with the cost of handling and integrating documents into digital workflows.
The new devices combine powerful scanning capabilities and Canon's award-winning solutions platform to integrate and streamline paper processes. Users can capture, archive, process and share information directly from the device to almost any location and format.
A common and intuitive graphical menu across the range, combined with a new WVGA capacitive touch-screen display, offers the same simple operation as a smartphone or tablet. New personalisation capabilities automatically tailor the home screen, language, personal workflows, address books and settings to each user. Video assistance and automatic detection of media size and misfeeds speeds up tasks, while newly added motion sensors remove waiting times and reduce power consumption.
The addition of Mopria support, PDF printing and WiFi as standard as well as optional NFC support extends Canon's already comprehensive mobile working offering.
A robust design, flexible media handling and versatile finishing options allows businesses to produce professional-looking documents and bring print volumes in-house without the costs of outsourcing or manual finishing.
Through support for industry IT standards as well as centralised and remote management capabilities, the new devices are designed for service-based print solutions that remove the management burden of print from businesses.
Cementing security
The new devices support the latest security standards, including HDD secure erase, IPSec and HDD total drive encryption certified to FIPS 140-2 standard. A newly added security policy function groups all settings into a single place, simplifying the management and application of security settings and policies.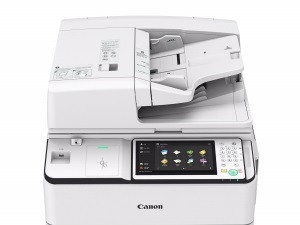 Also standardised is the award-winning Universal Login Manager software, providing a unique combination of user-based authentication, personalisation, function control and reporting. For larger businesses, seamless integration with uniFLOW software provides a single, centralised solution to control user access and all the elements of printing and scanning across an entire fleet.
Continues Botha: "At Canon, we strive to understand the concerns of our customers and develop solutions to help them meet their objectives. The new devices are building on success and provide businesses with a reliable document solution to reduce cost, secure information and boost employee productivity for years to come." Both the imageRUNNER ADVANCE 6500 and 8500 PRO series will be available across South Africa from 1 March 2016.
imageRUNNER ADVANCE 6500 series key specs:
* Print up to 75ppm in monochrome
* Customisable 25.7cm colour WSVGA touch-screen
* Up to 7 700 sheet capacity and flexible media handling and finishing
* Smart document capturing and handling processes
* Advanced security options
* Easy device and fleet management
* Low energy consumption
imageRUNNER ADVANCE 8500 PRO series key specs:
* Print up to 105ppm in monochrome
* Customisable 26.4cm colour WSVGA touch-screen
* Up to 7 700 sheet capacity and professional finishing options
* Supports up to SRA3 media sizes
* Advanced security options
* Easy device and fleet management
* Low energy consumption
(1) Adapted from research from ALL Associates Group, Inc 2012