Pule's future under discussion
Parliament's ethics committee presents its findings on former communications minister Dina Pule to the National Assembly.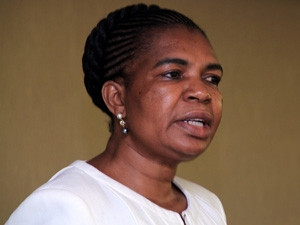 Parliament's Joint Committee on Ethics and Members Interests is presenting its findings relating to wrongdoing on the part of former communications minister Dina Pule to the National Assembly today.
This comes about two weeks after the axed minister was hit with the maximum penalties allowed by the Joint Rules of Parliament, as recommended by Parliament's ethics oversight body, for abusing her power.
On 7 August, the ethics committee found Pule guilty of allowing her romantic partner, Phosane Mngqibisa, to benefit financially from his relationship with her. The committee found Mngqibisa was indeed Pule's "de facto permanent companion/spouse", despite the pair consistently having denied this, and ruled that Pule had failed to declare her association with him - an obligation she has under Parliament's ethics code.
Pule denied all allegations levelled against her and her partner during the investigation, an action the committee said boiled down to her wilfully misleading it.
The body recommends Pule receive the harshest sanctions possible, a fine (equal to one month's salary) and a 15 day suspension.
Final fate
Although Pule was sacked last month, she continued to stay on as a Member of Parliament (MP) and was earlier this month appointed to Parliament's Portfolio Committee on Transport.
Ben Turok, joint chairman of the multi-party parliamentary panel that held closed hearings with Pule in May, said previously that the ethics committee process would end with its report to Parliament.
Following the presentation of the committee's report today, the ANC will have to decide Pule's fate - including whether to keep her on as an MP. Democratic Alliance (DA) shadow minister of police Dianne Kohler Barnard says the former minister's future rests solely in the hands of the leading party now. "This is now a political decision. The ANC will have to decide where to from here."
Meanwhile, two other investigations into the scorned minister are quietly continuing. Public protector Thuli Madonsela is expected to present her findings soon, while the police investigation prompted by opposition party the DA has yet to yield a verdict.