SA firm digitises heavy-duty industries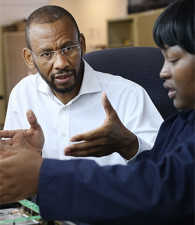 Mining is one of the most hi-tech industries but it's not seen that way purely due to old perceptions. Technology is disrupting every industry and mining will not be spared.
This is the word from Teddy Daka, CEO of Ansys, a black-owned and -controlled technology firm that designs, develops, produces, distributes and integrates digital technology-driven solutions.
Daka says the firm is in the process of being repositioned along four broad capabilities: safety and productivity, digital network connectivity, cyber security, and original design manufacturing for the previously untapped industries such as defence and information security, mining and industrial, rail and telecommunications.
He took ITWeb on a tour of his company's big moves in these sectors.
Daka says a number of innovative solutions have been used in the mining industry, such as gas detection systems, where remote sensors are deployed as part of the miner's standardised kit, and can detect gas imbalances as the miner moves underground, or can be placed at strategic positions underground.
"The gas sensors we manufacture are able to be inserted underground, constantly measuring various types of gases as well as levels. The sensors will then also be giving accurate feedback on the surface. [For this to work], the mine would then need a fibre line to enable feedback as well as a sophisticated WiFi system with spectrum that can work as far down as 4km underground in order for the sensors to report accurately."
Daka says some of the digital solutions have been installed by mining companies worldwide, including in Anglo mines.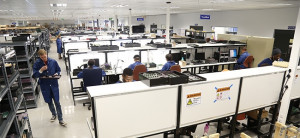 As part of its growth strategy, the firm is in the process of acquiring Profitek Industrial Communications, a critical communications service provider for rugged mining environments. The Ansys original design manufacturing facilities, which are based in Centurion, Pretoria, house 300 employees who design, develop, create and test the products.
"We look at digital mining and see that it is fast becoming a reality as it is becoming increasingly costly to run mines. The more mines become more costly to run, the more we move to use technology to resolve some of the challenges. The digital mine requires mechanisation and automation of mining systems and processes. Mining businesses are being managed efficiently and economically," explains Daka.
Daka adds that despite the technology being available, there are a few challenges that prevail. "As much as the technology is available, it still remains not as prevalent as it should be, mainly due to the high costs. We are trying to minimise the costs for the technology."
Equipment as well as shipping of the large magnetic pieces (up to 300kg) used for the products also plays a part in the inflated prices.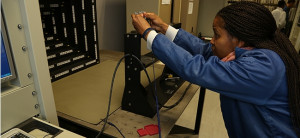 Machines such as the Helmet Tracker sensor, held here by Julia Lengwati, line manager at Ansys, is only one of two currently in the country. The machine is used to test the accuracy and functionality of helmet tracking camera sensors, which can be used in mining, defence and/or rail.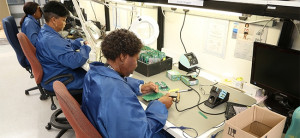 Skills development and transfer is another challenge, explains Daka, "Technology is disruptive to markets, especially if you are exposed as we are in this country because of certain factors like the low levels of education."
Daka explains that Ansys has taken it upon itself to transfer skills and knowledge specific to this sector through internship and in-house training, particularly from the previously advantaged to previously disadvantaged black females as well as newly graduated engineers.
"[Business] has a responsibility to society as when we introduce technologies, they must not alienate people, they must benefit the broader society, including those that may be disrupted. We [Ansys] try to be inclusive of all these factors."