Tshwane debuts R140m digital centre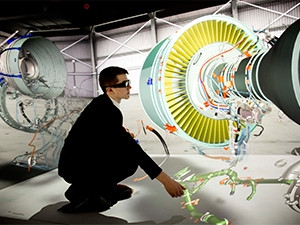 The city of Tshwane and EON Reality, a software company that specialises in virtual reality (VR) education, announced the inauguration of the Tshwane Interactive Digital Centre (IDC) this morning.
The aim of the centre is to enhance the local business and investment environment while creating high-skilled, sustainable jobs. It will form part of EON Reality's global IDC network.
The initial capital investment is worth over R140 million, contributed by both parties, and is part of the city of Tshwane's 2055 vision. The centre is the result of a 17-year relationship EON had with local VR company, the Naledi3d Factory.
Dave Lockwood, originally from Naledi3d, is the centre director.
The centre will train 50 students a year, free of charge, in interactive 3D skills. The promising students will go on to work for the centre and create VR content.
The IDC has four sections: the first is the showroom where VR and AR solutions are on display; the second is the VR academy; the third is a content development studio; and the fourth (not yet built) is a 4D theatre.
The content creation centre has space for 25 people, with space to expand to 150 with future funding, says Lockwood. The first five content creators have moved across from the Naledi3d Factory, some with up to two decades of experience.
Lockwood says: "VR and AR have huge potential across the whole of Africa, as a way to support, but also to transform, how we learn complex subjects. For example, vocational skills at university, and maths and science at school.
"Language barriers, as well as low literacy levels, tend to reduce how we understand what is being said and taught. By showing a concept, in a way that we can also play with it, means that we can 'see' what is been taught; hence, we can understand it better and also remember it much longer," says Lockwood.
Future VR creators
To get into the free course, students need to have some qualification in multimedia, programming or graphic design. Applications for next year open in October.
At the moment there are 32 students enrolled in the training centre.
Lockwood says the current students come from a range of educational backgrounds: a few mechanical engineers, one sound engineer and one student who never went to university but has been playing with 3D for years.
Trainers will come from all over the world, from different IDC centres in Singapore, Manchester and the US, for a few weeks at a time, to teach the students.
The IDC says VR and AR technology go beyond gaming, with far-reaching benefits in areas such as education, training, retail, travel, exploration, biology and science.
Some of the projects the centre will be working on include showing forestry students how to use a chainsaw correctly, and helping medical students diagnose thyroid disease, says Lockwood.
Perfect timing
The Naledi3d Factory has done work all over Africa, but always needed a powerful PC with a good graphics card to make it work.
Lockwood says the IDC comes at the perfect time, as the same powerful hardware can now fit into people's pockets in the form of a smartphone.
"And that's one reason why we are seeing virtual reality really taking off," says Lockwood.
Research done by Goldman Sachs earlier this year shows VR technologies will be bigger than television inside of 10 years.
The IDC will not be creating games, but educational content.
Visual learning
Lockwood says there are three basic reasons why interactive 3D works in education.
"The first is language; we have a problem in SA where we insist on using a European language to teach people, so they have a learning barrier before you start.
"The second is a literacy problem, where we insist on using text and power points to teach skills," says Lockwood.
The use of VR does not require students to speak a certain language or be able to read.
"The third reason," says Lockwood, "is that our brains are visual organs."
He explains that humans have only been using text for a few hundred years, but have been learning visually for thousands of years.
It is important to emphasise that VR does not replace a teacher, but gives them a better tool to teach with, he adds.
To sustain the centre, shorter paid-for courses may be on offer to the public in the future.
EON Reality says there is a possibility of similar centres opening up in Cape Town and Botswana in the future.