Crystal Lagoons brings beach paradise tech to SA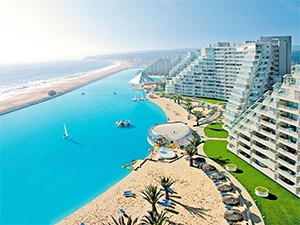 Water innovation and technology company Crystal Lagoons, which was recently introduced to the South African market, says it has disrupted the real estate market through its innovative way of creating environmentally friendly crystalline lagoons using technology.
Crystal Lagoons is a multinational company headquartered in Miami in the US that has developed a sustainable technology patented in 160 countries which allows building and maintaining crystal clear lagoons of unlimited dimensions, at low costs. The technology consists of systems such as Internet telemetry-controlled pulses and energy-efficient ultrasound filtration, says the company.
The company, which targets local real estate development companies, the energy and industrial sector and private home owners, says crystalline lagoons make good business sense in SA, as they can open up previously unfeasible areas to development while increasing selling prices and selling velocity.
The lagoons bring a wide range of recreational activities such as swimming, kayaking, paddle boarding and sailing, all within a safe environment.
Alastair Sinclair, regional director of Crystal Lagoons in Africa, says the technological innovation is environmentally friendly and has been developed and designed to use minimal amounts of water, energy and chemicals.
"Crystal Lagoons has disrupted the real estate market in every country it has entered by challenging the real estate paradigm of location.
"The technology used involves very low water consumption because the lagoons work on closed circuits, using up to 30 times less water than a golf course and just half of the water required by a park of the same size. This is of huge benefit to a country like SA where both water and energy are scarce resources," he points out.
All the lagoons' hydraulic, biochemical and mechanical systems are controlled and operated remotely from Crystal Lagoons Control Centre (CLCC), using a proprietary telemetry platform, he adds.
"This online remote monitoring is done through specially designed systems and sensors that continually report specific physicochemical and water quality parameters in the lagoon. The different mechanical and hydraulic systems operating in the lagoon are activated and controlled from CLCC, allowing constant monitoring and continuous operation of the lagoon without requiring specialised on-site personnel, and assuring excellent water quality around the clock," notes Sinclair.
The monitoring, explains Sinclair is important as it allows maintenance of the water within the predefined parameters, guaranteeing standardised water quality in all lagoons, regardless of their location.
"Our lagoons use up to 100 times fewer chemicals and only 2% of the energy required by traditional swimming pools.
"This technology was first developed when scientist and entrepreneur, Fernando Fischmann, dreamed of creating a large, crystal-clear lagoon to provide swimming and water sports facilities to visitors to the San Alfonso del Mar real estate project in Chile. He travelled the world looking for technology that would be able to maintain a large body of water efficiently, and resolved to develop his own when he couldn't source it," he continues.
There is a lot of interest from local developers, he adds, who are looking for an amenity to set themselves apart, especially in residential developments with no access to water for leisure activities.
"We are currently transforming the world-famous Las Vegas strip into a beach-front paradise, with cerulean turquoise waters and white sandy beaches. Another project includes the 12.5-hectare lagoon at the Citystars Sharm El Sheikh tourist development in Egypt.
"We look forward to enabling developers to unlock greater benefits in their projects, whilst improving the lives of South African residents," concludes Sinclair.