CSIR tackles mining safety using technology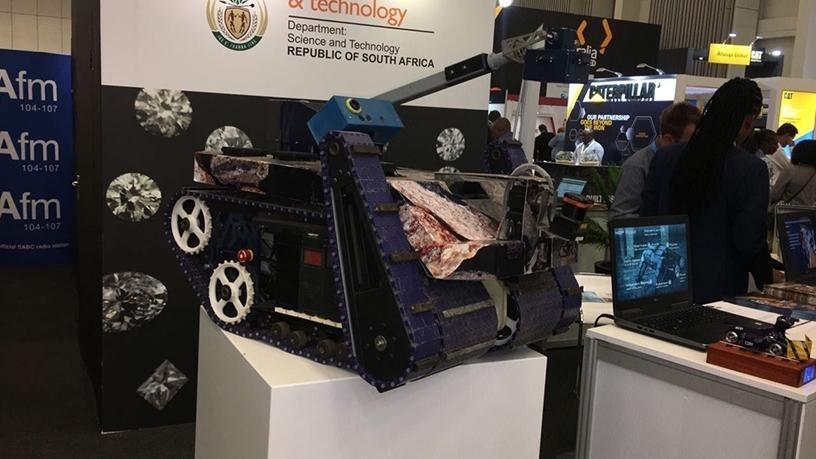 The Council for Scientific and Industrial Research (CSIR) is exploring new ways to lessen mining fatalities through the help of technology as part of Operation Phakisa, a government initiative to reduce mine fatalities to zero by 2020.
At an event hosted at the Mandela Mining Precinct in Johannesburg yesterday, the CSIR launched prototype products that can bolster safety initiatives in support of the country's mining sector.
The South African mining industry has been plagued with fatalities this year, with over 50 deaths reported so far. According to the Department of Mineral Resources, 88 mining deaths were recorded in 2017, while 73 were reported in 2016. In 2017, mining contributed 8% to SA's GDP.
Geophysicist Dr Michael van Schoor says rock-falls account for 40% of fatalities at mines, so there is a need for reliable rock mass stability determination in mining.
"Ground-penetrating radar (GPR), which is being researched as one of the South African Mining Extraction, Research, Development and Innovation Advanced Orebody Knowledge technologies, can play a major role in providing valuable information regarding immediate hanging wall integrity.
"This technology contributes to the zero harm objective, by enabling miners to visualise potentially hazardous geological structures. Managing health and safety risk in a mine requires real-time monitoring and quantification of the underground hazards and the exposure of personnel and equipment to such hazards."
Van Schoor further explains that GPR works similar to speed traffic radar detection systems to enable general fault detection. GPR transmits a signal down into the ground and faults are mapped on a radar-gram based on the amplification and duration of the return signal.
"The council is in the process of developing technology that will produce three-dimensional maps which could be integrated, in real-time, to an existing mine plan."
A Monster and Glass Rock
Among the technologies displayed was a robot platform, the "Monster", which aims to assess and identify risks for underground mines. Explaining the functionality, principal CSIR researcher Dr Shaniel Davrajh said the robot is equipped with safety inspection sensors to enter mines during safety periods.
"The inaccessibility of some areas underground makes it difficult and dangerous for inspections after blasting, so as the CSIR we developed the robot to assess and identify risk for underground mines."
The Glass Rock is a prototype said to include technology that will allow miners to see through rock faces where reefs are located, while the pedestrian detection system uses a range sensor to determine the distance to each identified person and tracks each person to determine if and when a collision is likely to occur.
The Rockpulse is a compact, battery-operated early warning and monitoring device that constantly monitors rock-mass for micro-seismicity. Through the device, miners are able to listen to raw micro-seismicity, extract micro-fracture features and analyse the resulting series of features to detect large instabilities taking place in the rock mass early, said Davrajh.
"Continuous real-time monitoring of instabilities also allows for optimised safe re-entry times after hazardous events."
Van Schoor noted that most of the technologies are still early experimental prototypes. "We would first need to prove effectiveness and then commercialise before eventually taking the equipment underground.
"The CSIR has been identified as a primary research provider to the Mine Health and Safety Council Centre of Excellence and does have the support of the majority of the mining sector, including the likes of Anglo Gold Ashanti, Harmony and Sibanye-Stillwater.
"As much as the implementation of such technologies may prove to be costly to mining companies, we do hope the establishment of the Mandela Mining Precinct will provide a platform to address such matters and eventually the companies will note the benefits offset the financial investment," he concluded.